Fashion Throughout Our High School Years
From 2018 to '21 take a look at the fashion trends most popular the past high school years
May 17, 2021
Indie:
Indie fashion is described as paler colors, a moodier tone and focuses on individuality. The aesthetic was a big fashion style back in the 2000's for the skater life and eventually came back in between 2019 and 2020. There is a difference between the earlier indie aesthetic compared to today's version of indie: more color showed up in the clothing from the early 2000's, whereas the indie nowadays has a far more muted color palette.
"I thought that it suits me best right now because I do not have to overthink my outfits too much and I look more natural in it," senior Brent Diesel said.
Similar to the 90's aesthetic, a majority of the clothing items are cropped or oversized with bands and graphics on them. Indie leans more towards baggy pants and sweatshirts, natural or bright makeup and very few, but fancy, jewelry pieces are worn with the overall outfit.  Indie music artists, including Clairo, Conan Gray and many others, are another big thing that shapes the overall aesthetic. Teenagers are able to enjoy a wide variety of artists who are a part of the fashion aesthetic and can connect their clothing to the music that they listen to.
E-Boy/E-Girl:
Considered the "hip young people" of the current generation, the E-girl/boy aesthetic took over the social media platform, Tik Tok and the rest of the internet starting back in early 2019. A huge part of the aesthetic that completes the look is the dyed hair color, most remarkably the colors of lime green, neon pink, or a split-dyed blonde and black hairstyle. To add onto the look, they would have short loose skirts, mesh t-shirts, multiple chains and black combat boots with dark eyeliner. 
"Especially with it's huge emphasis on reducing fast fashion and increase in thrifting and supporting small businesses, [it's] definitely a more sustainable choice," senior Ariana Lepage said.
A majority of the clothing from this aesthetic tends to be thrifted from Goodwill or any other thrift stores which benefits the environment and can be cheaper depending on where they are bought from.  The aesthetic also includes some hip-hop, anime, goth, cosplay and skating culture into it which appeals to a variety of people who are able to enjoy it in their own way.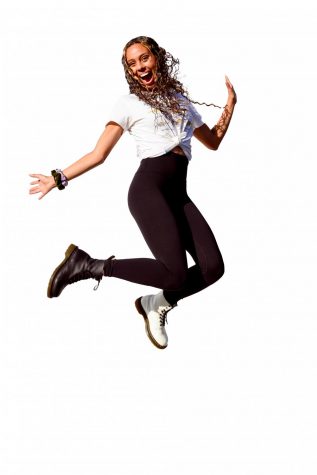 VSCO:
Hydroflasks, scrunchies, high ponytails, unrealistic summers and the "save the turtles" slogan take teenagers all the way back to summer of 2019. It seemed that the fashion Tik Tok trend had taken over that year and made scrunchies, Hydroflasks, and VSCO popular in a time like that. The word "VSCO" originally originates from the photo editing app known as VSCO, which came out back in 2012. Catchphrases such as "and I-oop," and "sksksk," became very common to say that connected back to the VSCO aesthetic. 
"I love the vibes it gives off as it's very beachy and summery [vibes]. I think overall there's a lot of different things you can do to make it your own," senior Maddie Zavala said.
 A well known starter pack for an typical Vsco girl [or guy] would be oversized t-shirts that cover up their shorts, a scrunchie (or three) in her hair or rather on their wrist, the Swedish brand "Fjallraven," backpack, Birkenstock sandals or Crocs, Burt's Bees lip balm, an puka shell necklace and lastly, a completely sticker-covered Hydro Flask. Till this day, people still use the VSCO app and wear what is considered "VSCO attire" the overall trend is on the downlow since 2020. 
90's:
The fashion world is taking it back three decades in time and bringing the 90's to the year 2021. The 90's style recently became a big hit with people thrifting old cropped graphic tees and low rise blue jeans. Entertainment movies like "Clueless" and the TV show "Friends" show a wide variety of 90's outfits that are trending right now. 
"I enjoy watching movies that take place in the 80s and 90s because there's something so cool about the way people just dressed," senior Christopher Rey said.
Dr. Marten shoes, slip dresses and flared out jeans were some of the clothing pieces in high demand during that decade. Many of the clothing pieces are characterized by their colorful and vibrancy which made up a majority of the 1990's time period fashion line. 
"This style is one of the few ways that you can express yourself without words…. I think it's interesting that you can tell a lot about someone based on what they are wearing," senior Desiree Nathanson said.
Many teenagers, including Nathanson and Rey, feel that they have a wider range with style options due to the endless options they have with clothing pieces and outfits of this decade. Bringing the 90's style back also allows many people who weren't part of that generation to get a small taste of how it was like in that decade.