Woodbridge High's Academic Teams Find Success Both In and Out of Competitions
The academic teams at Woodbridge High deal with competition and the challenges that come with Covid-19 to create a culture of winning.
April 23, 2022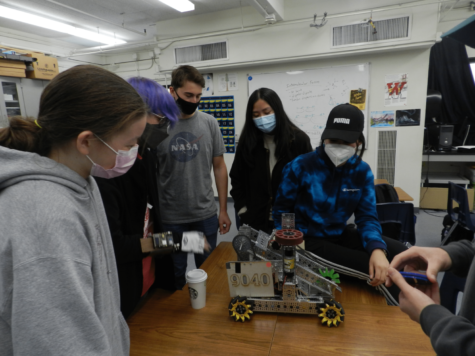 The STEAMpunks Alpha robotics team at Woodbridge High continues to find success in and outside of competitions as they aim to create a long-lasting community of people that love share a love for robotics. The robotics team teaches members how to code and construct a working robot as well as valuable life skills such as collaboration, teamwork and leadership as they compete in the First Tech Challenge (FTC).
"I've been competing in FTC all four years [of high school], and it's been a really good experience for me not only in learning basics of STEM and engineering and how to make a robot, but also for leadership," senior and captain of STEAMpunks Alpha Dean Zepeda said. "This is a group effort and I have to work really closely with all the other members… in order to bind this all together to create this robot at the end."
The team's younger members also have high hopes for the future of robotics at Woodbridge High. "I'm hoping to be able to better expand our whole club…so that would be reaching out to middle schoolers and getting more money to help fund that sort of thing," sophomore and STEAMpunks Alpha member Noelle Zepeda said.
Through outreach to local middle schools and continuing the overall collaboration of the team, Noelle Zepeda hopes to break the stigma surrounding robotics and encourage more people to participate. To her, robotics is "not just about building the robot. It's more about [bringing together] the whole community, reaching out to others, expanding your passion and bringing robotics to a larger community…I feel like everyone sees robotics as like 'oh, these are all the nerd kids,' but it's not true. Anyone can learn robotics, and it's a really great community to be a part of."
For more information, visit https://www.firstinspires.org/robotics/ftc.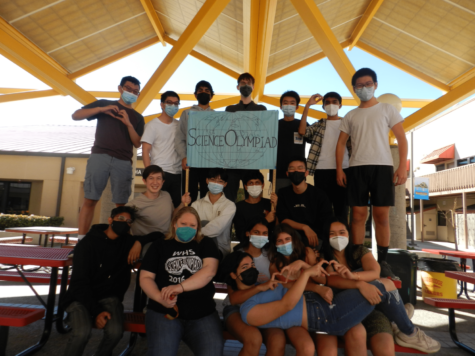 Woodbridge High's Science Olympiad, a club focusing on science-based events ranging from astronomy to ornithology, continues to prepare for competitions and develop their love for science.
In a typical year, the team would compete in the Orange County Regional Science Olympiad Tournament at the University of California, Irvine. However, due to concerns over the Covid-19 pandemic, Southern California Science Olympiad decided to make the competition a satellite tournament, with each team competing virtually from their respective schools. Despite changes with the logistics of the events, the group's preparation does not change.
"Recently, we have been studying for our upcoming competition in February. As of now, we have meetings once a week, where we come together to study and bond with each other," senior and Science Olympiad member Ethan Ho said.
Throughout the preparation process, team members have the opportunity to pick up on new skills that they likely [would not] have been able to do outside of the team.
"One of the skills I picked up through my time with [Science Olympiad] was woodworking," Ho said. "In the beginning, I felt like a kid who just got a new toy, but after some hiccups, I was able to use the electric drill without concerning others." Woodworking is just one of the many skills that members can pick up on through Science Olympiad. Consistently placing high in regional competitions, Science Olympiad at Woodbridge High shows no signs of slowing down.
For more information, visit https://www.socalscioly.org/.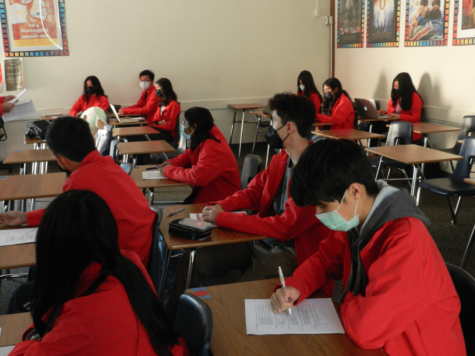 Academic Decathlon at Woodbridge High continues their dominant run by winning the Orange County Academic Decathlon for the fifth time in six years, this time by almost 9,000 points.
"Academic Decathlon is a ten-event team competition encompassing various academic subject areas and practical skills," senior and Academic Decathlon member Iris Shen said. The teams are divided into three Grade Point Average (GPA) groupings: Honors for GPAs between 3.8 and 4.0, Scholastic for GPAs between 3.2 and 3.79, and Varsity for GPAs between 0.0 to 3.19 (United States Academic Decathlon). This gives every student the opportunity to reap the benefits of Academic Decathlon, regardless of their academic success.
"I've already found so much use for my Decathlon knowledge in my high school classes, such as in discussions or essays, and I've heard from former Decathletes about how the material pops up in their college classes," senior and Academic Decathlon member Melissa Tsaowimonsiri said. "I learned everything from communication skills, to time management, to goal setting, which all will help me in the future."
Beyond the competitions, the student collaboration that comes with Academic Decathlon is also extremely important for the members and how they benefit from the team.
"Our program is unique because we teach each other the curriculum and help each other learn. Given that we have varied interests, this is really nice because we pick up cool bits of information from each other and have fun with learning in a collaborative way that often doesn't happen in a classroom," Shen said.
It comes as no surprise that Academic Decathlon has had such success as of late, winning four of the last five county championships and placing top eight in the state for the past three years.
For more information, visit https://www.usad.org/.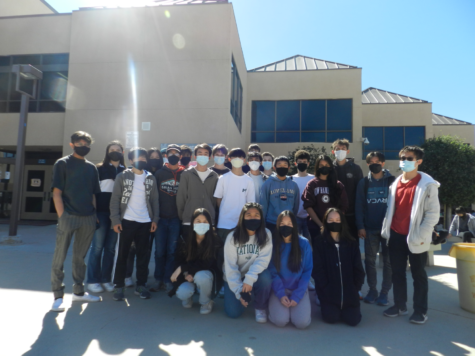 Despite challenges with Covid-19, Woodbridge High's Mu Alpha Theta (MAT) has continued their efforts in preparing members to compete in different American Mathematics Competitions (AMC), such as the AMC 10 and 12, as well as providing opportunities for people to simply share their love for math.
Mu Alpha Theta, which is actually a transliteration for the word "Math" using Greek letters, has existed for many years on campus through the national honor society, and it is tailored for Woodbridge High students in Advanced Placement or honors math classes.
"Although it has been really hard this year to fit what we want in our meetings since students cannot eat in a classroom during lunch like we used to, we try to take advantage of the little time we have once a week to really get their brains thinking," senior and Co-President of MAT Seth Ferrell said. "We focus on having fun solving difficult math problems together."
Not only is MAT an opportunity for members to share their love for the subject of math, but it is also an opportunity to create relationships with other students of similar interest and work towards becoming a stronger leader.
"Even for those hesitant about giving competitive math a shot, MAT is the perfect place to learn from your peers and have fun while doing it," Ferrell said.
Currently, the team is preparing for Math Day at California State University Long Beach (CSULB), "a problem-solving festival for Southern California high school students who want to have fun with mathematics and enjoy a day of camaraderie with university mathematics students and professors," according to the CSULB website.
"Math is all about making mistakes and creating deeper connections about the problem you aim to solve so that you develop a more robust solution in the end," Ferrell said. "So, why not do it in our supportive environment, together?"
For more information, visit https://mualphatheta.org/.