Eight Students at Woodbridge High School Win the National Hispanic Recognition Award
Students at Woodbridge High School performed exceptionally well on the PSAT, with many earning an award from the College Board
Last October, millions of high school students across the country took the Preliminary Scholastic Aptitude Test (PSAT), including roughly 400,000 Hispanic students (CollegeVine). Of those 400,000 students, the top 10% are eligible to receive the National Hispanic Recognition Award, and included in that top 10% were eight seniors from Woodbridge High School: Alberto Neira, Ana Rodriguez, Ariel Cardenas, Emma Llaguno, Jenny Gibson, Ricardo Castro, Victoria Hernandez and Ximena Cedano.
For many, this award validates the hours spent not only studying for standardized tests such as the PSAT, but also the hard work they put into school.
"I think [this award is important] because people of our ethnicity are underrepresented in higher education and in high school in general, so I think being high achievers is really meaningful and it really just inspires me personally to keep going and [to work] even harder," Rodriguez said. 
Beyond the motivation that this award instills in individual students, it also serves to connect those of Hispanic descent with one another and highlight the work being done by those in the community as a whole. 
"For the Hispanic community it's important because we are a community that is a minority in this country, especially here in Irvine, so getting recognized is a really powerful thing for us," Neira said. "It's like, 'Hey, we are here, we are getting recognized, we are a part of your community and we are also getting to higher places.'"
This recognition cannot go understated, as it provides an avenue for students who may feel like they are not represented in their city and educational environment. In Irvine specifically, only about 30,000 of the over 300,000 residents in the city are Hispanic, according to the United States Census Bureau. Taking it one step further, only 22% of Hispanic students over the age of 25 in the entire country have an associates degree or higher (USA Today). Hispanic students are faced with a lack of representation not only in Irvine, but in post-secondary education as a whole, which is why awards that help high-performing Hispanic students stand out are cherished among the community. 
"I absolutely believe that College Board should continue offering awards like this because it is really important to recognize students who already feel as though they are underrepresented, especially in a system that's really stressful and super important to kids our age, like college applications, and awards like this just help bring more focus to students of Hispanic descent," Llaguno said. 
While this award opens the door for numerous scholarships and helps students stand out on college applications, many were unaware the award was even a possibility until they were notified about it months after taking the exam. 
"I'm going to be completely honest, at first I didn't know these kinds of awards existed," Neira said. "When I got the email saying 'Hey, you got this award,' I was like, 'Nah this is probably spam, somebody's trolling.'" 
Neira is not the only one that had no prior knowledge about the award before taking the exam. Additionally, both Neira and Rodriguez agree that making the possibility of winning the award more well-known, as well as the qualifications needed to achieve it, could encourage Hispanic students to take the PSAT more seriously. Nevertheless, the award has proven to have a very positive effect on Woodbridge High School recipients in the form of morale, as well as their chances at getting into competitive universities in the future. 
This year, the PSAT is taking place on October 13 at Woodbridge High School, and all students of Hispanic descent that take it will automatically qualify to win this award the following year; no sign up or extra work required. This means that this same recognition and opportunity for scholarships is attainable for students this year, as well as for future years, if they are in the top 10% of Hispanic students that take the exam. 
"I would just say that, especially for Woodbridge students, because [Hispanic] students are such a small minority in Irvine specifically, it was a privilege to experience this and to receive this award, and to be recognized by a national institution like College Board," Llaguno said. 
About the Contributor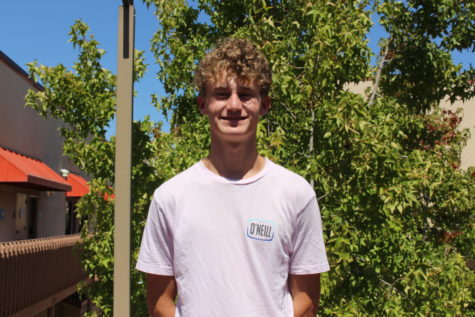 Ethan Crawford, Co-Editor-in-Chief
Hey Warriors! My name is Ethan Crawford and I feel very honored to serve as a Co-Editor-in-Chief and a staff writer this year. This is my third and last...