Blackpink: The Media Sensation's New Music Album Stirs Varying Feelings at Woodbridge High School
Blackpink's release of their 2022 album, Born Pink, has had controversial opinions by many K-pop lovers at Woodbridge High School. However, the overwhelming opinion is that Born Pink is unoriginal and copies their debut songs
The fall season of 2022 has brought many new music albums released by a multitude of different artists. From hip-hop to R&B and more, many artists find the fall season a popular time to release new music. This is the case for world-famous Korean pop artists Blackpink, an all-girls group that is often talked about as the world's biggest pop band. 
Blackpink first debuted in 2016 with Jennie Kim joining first in 2010, Lisa Manoban in 2011, Jisoo Kim in 2011 and Rosé Park in 2012. Their debut album is titled "Square One" and the title tracks are "Whistle" and "Boombayah." An article titled "Blackpink and the Limits of K-Pop Maximalism" published by the New York Times, notes that most of the songs are "largely masterminded by the producer Teddy Park." Blackpink uses a variety of genres in their music, but they mostly mix k-pop, EDM, and hip hop. In their most recent album titled Born Pink, the album features a variety of songs, with many consisting of mostly English lyrics. 
Pink Venom was a song released in August before the album came out. Pink Venom is mostly hip hop and features mostly english lyrics. The song starts off with the band chanting "Blackpink," which is a typical move which they feature in the majority of their title tracks and hits. It then leads into a short rap by Manoban. After a few short verses from Rosé and Jisoo, the song leads into the chorus sung by Jennie. The chorus is pretty simple, repeating the same lyric "this that pink venom" over and over for the majority of the song. 
Some kpop lovers find Pink Venom boring and unoriginal. "I didn't really like [Pink Venom], it just felt really repetitive and sounded like their other comebacks," senior Ruth Lopez said. Even the New York times agrees, claiming the song to be "more a jingle for the group than a pure musical statement."
After discovering them in 2018, Lopez holds the group to high standards. 
"By this point I was expecting something a little new. But they just sound very very similar to all their other songs," Lopez said. 
However, her favorite song from Born Pink is Shut Down. Shut Down is one of the most popular songs from the Born Pink album. It's also one of the only two Born Pink songs to have a music video, the other being Pink Venom. The song starts with Jennie giving a short rap whilst sitting upon a gem-coated tank, a copy from their famous "Ddu-Du-Ddu-Du" music video. The music video is iconic for the girl's outfits, featuring Jennie in her red aviator hat, Park in her green trench coat, Jisoo in her tiger skirt and Manoban in her blue shorts and brown boots. 
Many kpop lovers enjoy learning the dances to their favorite kpop songs. Lopez is no exception. "I just really like the beats and it was one of the songs I was able to learn a lot of choreography from," Lopez said. The most famous verse from the song is probably the part where the girls say "whip it whip it whip it," which is repeated multiple times throughout the song.
Senior Rosey Chang has been a fan of Blackpink for about six years. Her favorite song from the Born Pink album is Happiest Girl. Happiest Girl is probably the slowest song on the track and is "a brittle melodrama of a piano ballad," as stated by the New York Times. The song is a bit repetitive, with Jennie repeating the part "tonight I'll be the happiest girl in the world" multiple times throughout the song. 
"It has a completely different vibe from their other songs," Chang said. 
The tone could be described as depressing yet heartwarming. The slow background adds to the melody of the words in Happies Girl. Contrast is shown as Jennie goes from a very high note to a deeper one, becoming an illustration to show the two different feelings one can experience during a relationship, sadness and happiness. Happiest Girl is definitely a unique track that makes the overall album meaningful in general.
The more electric themed song in the track is Typa Girl. It features a catchy opening with a guitar, snaps and claps. The song opens with Park giving a short rap introduction to the song. The song in general is more of a rap song with no real melody and is mostly fast and upbeat.. 
A general theme across Blackpink's new album is unoriginality and cliches. Typa Girl follows the same pattern. "That one line that says 'I'm not like the other girls,' throws me off when I listen to it," Chang said. The song has a lot of repetitive, stereotypical verses that reinforce the idea of a different kind of girl that makes someone forget that they had a "type of girl" in the first place. Romance is not an uncommon idea discussed in music, but the lyrics of Typa Girl continue to emphasize the idea of Blackpink being unique and different types of girls. The name of the song itself even continues the cliche of Blackpink not being in the regular pool of girls.
Blackpink is known for their catchy, upbeat music that hasn't changed throughout the years. 
"They have very catchy parts in the songs, but I wish they would do something new," Lopez said. 
However, the majority of their audience wishes they would try something new instead of recycling dances and lyrics. The New York Times adds onto this idea, adding that "The genre's more-is-more moment might be coming to an end, and younger [kpop groups] like Aespa and NewJeans point a way forward." Overall, Blackpink has some good songs from their new album, however, most of them feature repetition, recycled clips and unoriginal lyrics.
About the Contributors
Kailey Moore, Content Editor
What's up Warriors? I'm so excited to be the first Content Editor at Woodbridge High School. I'm ready to put my skills to the test and work towards greatness...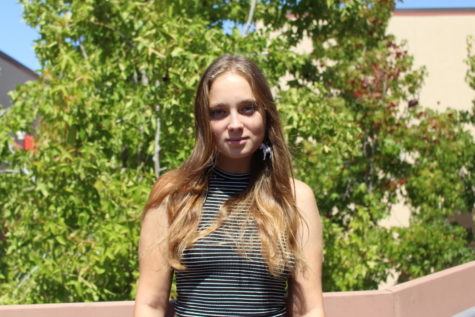 Lisa Volovik, Illustrator
Hey, my name is Lisa and I am very excited to be a part of our school's news community this year! It is my first year as an illustrator on Golden Arrow...