Woodbridge High's Entertainment Corps Brings "Beauty in Chaos" to the Limelight
Through storytelling, the Entertainment Corps brings forth a more experimental, student-driven theme of "Beauty in Chaos"
This year, Woodbridge High's Visual and Performing Arts (VAPA) department is presenting "Beauty in Chaos."
Encompassing multiple aspects of Woodbridge High's VAPA department, "Beauty in Chaos" has been a collective and experimental effort to drive a personal connection with the audience.
Aimed to represent the small, defining moments of clarity that we can find in our everyday lives, "Beauty in Chaos" was born out of an idea proposed by a team of writers, designers and directors.
The team, consisting of band directors Brad Harris and Joselynn Blasdel, dance teacher Hanne Schmidt, colorguard
coach Dylan Martin, music arranger Brian Dinkle and visual staff member Akira Torrijos, represents an effort to create a unified and cohesive performance.
"[This idea] just kind of progressed out of an organic idea into something that is not only just a show, but means something. You know, our lives are chaotic but we can always find beauty," Harris said.
Unlike previous years, this new theme is more experimental because of its less systematic and more student-driven
approach. Students have a lot of creative liberty in expressing their interpretation of "Beauty in Chaos."
"We have a lot of individuality we can express. It's a little bit complicated because it's not what we're used to…it's a step in a new direction for us but it's been fun. A lot of stuff is just our own creativity and it's nice," section leader Imogene Weiss said.
On the performance side, the VAPA department uses storytelling and avante-garde visuals (with the help of technical theater) to get their message across.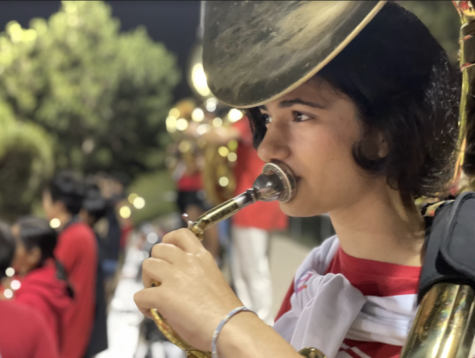 For marching band specifically, the team is moving away from strict, systematic marching and into more free-form poses and movements. Band members are encouraged to come up with their own poses and styles of marching.
"For instance, we have this one movement where we're replicating an ocean…it creates an interesting feel and I think that's going to set us apart from the other competition," Weiss said.
The visual aesthetics are inspired by urban-art, graffiti silks and beautifully decorated trash dumpsters, acting as a stage for the dance team to perform on top of.
Dance team member Neta Brudner explains that performing on a less conventional stage, like trash dumpsters, shows the inherent "Beauty in Chaos" of the performance as a whole.
"The reason that they have us stand on those platforms is because band [is] moving around in ways that aren't traditional; they kind of have their own improv. [Us dancers] on the stand have the same choreography and you see this beautifully choreographed piece on top of this craziness," Brudner said.
Audibly, the music reinforces the ambience set by the performers and the visuals.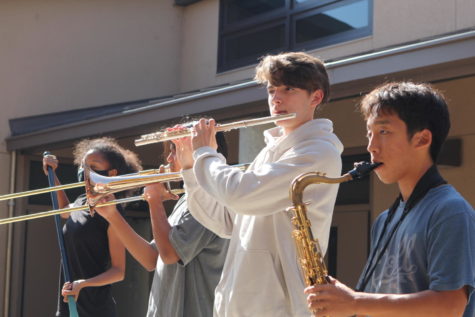 "There's a part in [the music] where we do space chords; it sounds like someone is hammering on a piano and then it goes into beautiful rich chords," Harris said.
Although this year's theme is much more abstract than years before, Harris and Blasdel hope that the audience catches on to the creative portrayal of "Beauty in Chaos."
"At the end of the show, [the performers] are going to line up and spell 'Beauty in Chaos'…hopefully we'll slam the audience across the head knowing what our theme is by the end," Harris said.
About the Contributors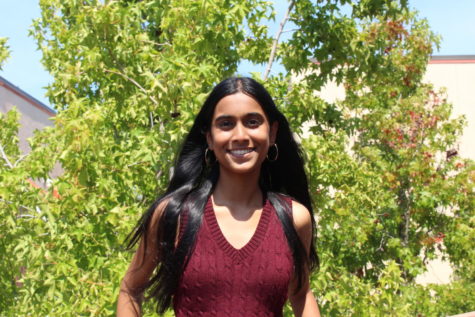 Manasaa Meenakshi, Opinion Editor
Hello! My name is Manasaa Meenakshi and I'll be this year's Opinion Editor. I've been a part of our journalism program for two years, this being my third...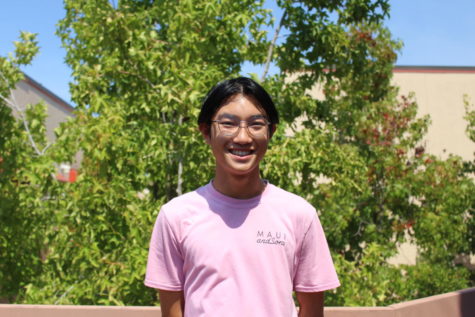 Ocean Pham, Photographer
Hey Warriors! My name is Ocean Pham and I am excited to start my first year in Golden Arrow as a photographer! I hope to share my skill in photography...