Does Nonstop Holiday Music Bring Out the Grinch in You?
While some students may enjoy hearing "Jingle Bells" all year long, others can find it tiresome to overplay these classic songs
*Note: This is a strictly satirical article; all quotes and commentary serve satirical purposes. To get the full experience of this article, be sure to indulge in some milk and cookies as you read. Enjoy!
Every year, like propaganda through the airwaves cleverly disguised as your holiday faves, Christmas songs play non-stop, from "Santa Baby" to "Up on the Housetop."
With the holiday season well underway, there comes the ongoing debate about playing holiday songs after Thanksgiving Day.
Some support the tunes all year long, while others insist this is just plain wrong.
"Please do not play holiday songs all year long," math teacher Christy Sterner said. "Anybody who knows me knows that Halloween is my absolute favorite. So when the holidays start to take control before Halloween, I get really annoyed and frustrated … I tend to wait until the end of November to jump into the holidays. So, please do not put my Christmas before my Halloween."
Sterner's sentiment is popular among the Woodbridge High student population, as a recent poll on the Golden Arrow Instagram suggested that for 89% of students, holiday songs "all year long" can bring bouts of frustration.
Junior Colin Kim mostly agrees with Sterner's point of view but adds that holiday songs right after Halloween are okay too.
"If we wait to start playing them after Thanksgiving, it's just not enough time to appreciate Christmas songs," Kim said. "It's too much of a narrow window between Thanksgiving and Christmas for you to truly enjoy all the Christmas songs that you can listen to."
As the Woodbridge High community slowly enters into the holidays, teachers and students should ensure support for their usual song-playing ways. As 89% of students from the Golden Arrow poll recommend, holiday songs should be added to the classroom playlist starting around October or November's end.
"The day after Halloween, holiday songs are a must," junior Rachel Khorashadi said. "When people hear the [holiday] songs, I think back to happy memories with family and friends… It sort of gets [me] into the mindset of winter time [and] just the nostalgia of it all."
Although there remains disagreement on when exactly to restart the holiday playlist, when given the choice to play the songs "all year long," it is clear most students and staff strongly resist.
National Health Service clinical psychologist Linda Blair warns that playing holiday songs too early can only cause damage to the public welfare.
"Listening to Christmas music too early into the holiday season may affect mental health by triggering feelings of stress," Blair said. "It really does make you unable to focus on anything else. Hearing a Christmas song can spark thoughts of all the things you have to do before the holiday, like shopping, party planning and traveling."
So, what's my final advice?
I propose that playing holiday songs after Halloween or Thanksgiving Day will suffice. From Grandma Got Run Over by a Reindeer to Christmas Time is Here, students and staff on campus will surely smile from ear to ear.
Simply follow this rule every year, and Woodbridge High will overflow with holiday cheer!
About the Contributors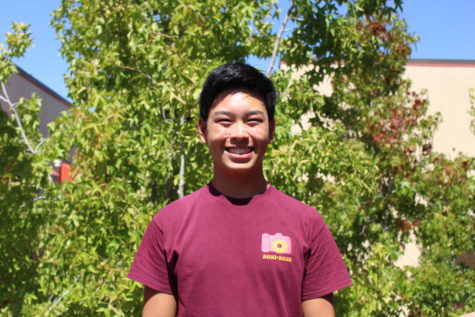 Brandon Liu, Features A Editor
Hi Warriors! My name is Brandon Liu and this will be my third year in Journalism. I am beyond ecstatic to be your Features A Editor this year! My job is...
Kailey Moore, Content Editor
What's up Warriors? I'm so excited to be the first Content Editor at Woodbridge High School. I'm ready to put my skills to the test and work towards greatness...