Kick Off Winter With These Heart-Warming Albums
Taylor Swift, The 1975 and Weyes Blood dropped a colorful collection of new albums this season
Content warning: This review mentions sensitive topics such as school shootings and eating disorders.
In the spirit of honesty, I have to warn you all: today's installment of album reviews is all about me. Over the last two months, several of my all time favorite music artists, including The 1975 and Taylor Swift, released albums. I typically try my best to review a variation of artists from different genres. However, I simply couldn't resist the chance to squeal about these masterpieces to someone other than my best friend (whom I'm positive is tired of hearing it by now). Also, this is a column now! You're stuck with my insufferable music opinions and I for the foreseeable future.
Being Funny In A Foreign Language – The 1975
Released Friday, October 14, 2022
If you know me, you know that I live and breathe for The 1975. I've been listening to the British foursome for ages, and I'm obsessed with the previous four albums that they've released. This put a lot of pressure on "Being Funny In A Foreign Language" to live up to the standards that their past records have set (spoiler alert: it did). 
There's one thing that will always be constant in The 1975's records: there will be a theme, and it will be pretentious. The theme of "Being Funny" is clearly a postmodernist take on cliché romance. In other words, the album centers around the idea that love can save us. This has to be one of their sincerest albums, although it is still filled to the brim with dry humor and dirty jokes. 
Track two, "Happiness," immediately forces the listeners to drop everything to get up and dance. It consists of an energetic beat paired with lyrics like, "I would go blind just to see you/I'd go too far just to have you near." It's a rare happy love song from The 1975, who are better-known for their heartbreaking lyrics about being unlovable. 
"Being Funny" is filled with minimalist lush acoustics paired with staccato synths, while frontman Matty Healy juxtaposes each dirty joke with a heavy line of social criticism. This is exemplified in "Part Of The Band," when Healy sings, "I know some vaccinista tote bag chic baristas/Sitting east on their communista keisters." 
The tracks from "Oh Caroline" to "Human Too" consist of beautifully bare love songs, both mellow and upbeat. The album closes with the melancholic track, "When We Are Together." Almost two months after this album was released, I still can't listen to this song without crying. The theme of the album becomes most clear when Healy confesses, "The only time I feel I might get better is when we are together."
Highlighted Tracks:
"The 1975"
Every album thus far by The 1975 has opened with a short synth track titled "The 1975," with the same simple lyrics beginning with: "Go down/Soft sound." It was assumed that "Being Funny In A Foreign Language" would begin the same way, given the title of the opening track. However, it was a most pleasant surprise to hear some of the most introspective, sincere lyrics about living in an age consumed by social media and technology. Frankly, hearing the lyric "I'm sorry if you're living and you're 17" just as I am about to turn 17 is extremely personal. Healy speaks of how teenagers live their lives simply for how others will view them, romanticizing mental illness as they do. This is summed up perfectly with the lyrics: "You're making an aesthetic out of not doing well/And mining all the bits of you you think you can sell."
"Looking For Somebody (To Love)"
While staying on the theme of love saving us, The 1975 transitions from silly love songs to a much heavier topic in "Looking For Somebody (To Love)," which discusses school shootings. The solid drum beat and pulsing synths make it irresistible to dance while Healy theorizes that the reason behind school shootings is loneliness. In one of their catchiest choruses to date, Healy claims that "the boy with the plan and a gun in his hand was looking for somebody to love."
"About You"
"About You" is a beautiful song in which Healy reminisces about "the one that got away." This track features the soft vocals of Carly Holt, wife of Adam Hann, The 1975's guitarist. While the overall song is beautiful, Holt's verse is what really hooked me. She laments, "There was something about you that now I can't remember/It's the same damn thing that made my heart surrender."
Midnights – Taylor Swift
Released Friday, October 21, 2022
This one's a doozy. Taylor Swift, the great love of my life, released a brand new album in the midst of rumors of her dropping another re-recording. She described the album as a look into 13 sleepless nights throughout her career. 
In "Midnights," Swift shatters her "America's Sweetheart" persona by showing her listeners several new sides of her: the sad girl and the bad girl, the cheater and the liar, the lover and the loner, and the woman that can be all of these things at once.
"Midnights" features several beautiful love songs, including "Maroon" and "Sweet Nothing." As a writer myself, my favorite lyric from "Sweet Nothing" has to be: "On the way home I wrote a poem/You say 'what a mind'/This happens all the time." Poets everywhere fell to their knees after hearing that one. 
Jack Antonoff's production is clear throughout the album, with the overproduced synth-pop style that is featured in techno songs such as "Midnight Rain" and "Lavender Haze;" a new stylistic choice for Swift, but one that compliments these songs perfectly. 
Swift realizes her worth and flaunts her newly-found self-love in "Bejeweled" and "Vigilante Sh*t." However cheesy the lyrics, "When I walk in a room/I can still make the whole place shimmer" might be, the listeners feel proud of Swift for finding this self-confidence. 
One downside to "Midnights" is the amount of telling rather than showing that Swift did. In "Mastermind," Swift tells us about her control issues when she sings, "No one wanted to play with me as a little kid/So I've been scheming like a criminal ever since." This bluntness takes away the emotion that typically accompanies Swift's songwriting. In "Anti-Hero," she tells the listeners, "When my depression works the graveyard shift/All of the people I've ghosted stand there in the room." Typically, Swift's music creates a whirlwind of emotions in the listener, really making us sympathize with her. By directly telling us what emotions she's feeling, it takes away that connection. 
"Anti-Hero" is also filled with raw, emotional lyrics such as: "I'll stare directly at the sun but never in the mirror." However, the cheesy, shallow chorus, "Hi/I'm the problem/It's me" ruins that introspection. 
Overall, even with its flaws, the album was a lovely change of pace for Swift, who unpeeled herself like an onion to show us all of her layers.
Highlighted Tracks:
"You're On Your Own, Kid"
The most devastating track on "Midnights," Swift describes the feeling of unrequited love with precision. We can truly feel her yearning when she sings, "I touch my phone as if it's your face." In another killer bridge, Swift sings about her disordered eating for the first time with the line, "I hosted parties and starved my body/Like I'd be saved by a perfect kiss." I'm not ashamed to say that my tears came quickly and stayed for a long time.
And In The Darkness, Hearts Aglow – Weyes Blood
Released Friday, November 18, 2022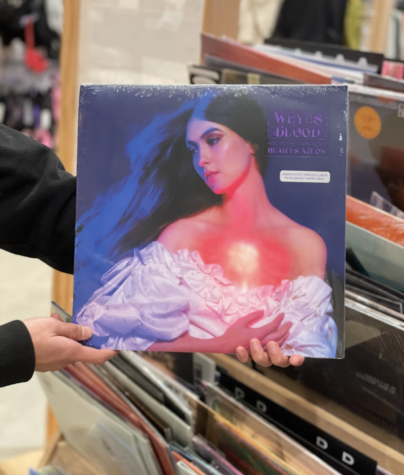 Natalie Mering, better known as Weyes Blood, released her fifth record this November. If "And In The Darkness, Hearts Aglow" could be described in one word, it would be kaleidoscopic. 
The majority of the tracks are intimate and vulnerable, covering the theme of a quiet apocalypse. Mering's heavenly voice showcases feminine vulnerability at its best. 
Her lyrics paint intricate, detailed pictures for us, heavily featuring locations such as a softly lit campsite in "Grapevine" and a ferris wheel on a boardwalk in "Hearts Aglow." 
The short album consists of 10 songs describing a quiet, burning love. In "Hearts Aglow," Mering sings of a deep connection with her lover over a pining chord progression. It's the ideal song to slow dance to with a partner, filled with lovestruck lyrics such as, "The whole world is crumbling/Oh, baby, let's dance in the sand."
Many of the songs on this record almost sound like hymns or prayers. In "God Turn Me Into a Flower," Mering begs God to end her consuming identity crisis by taking away her humanity. She sings, "When the mirror takes you too far/God, turn me into a flower."
One of my most beloved lyrics on the track is in "Twin Flame," when Mering encourages the listeners to stay strong by melodiously claiming, "We are more than our disguises/We are more than just the pain."
The album winds down with "The Worst Is Done," an upbeat track contrasted with devastating lyrics about the end of the Covid-19 pandemic. She sings, "They say the worst is done/And it's time to go out and see everyone/They say the worst is done/But I think it's only just begun."
Highlighted Tracks: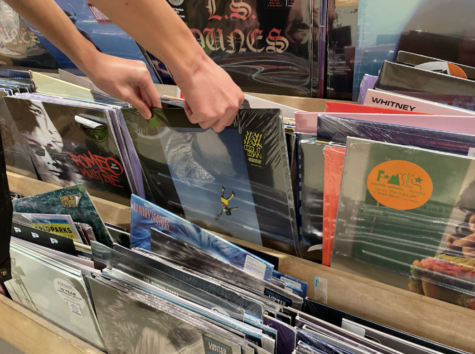 "It's Not Just Me, It's Everybody"
In this song, Mering discusses themes of isolation and loneliness against a beautiful woodwind and string arrangement. She describes a moment of introspection at a party where she is alone and nobody knows her. She describes the feeling of something slipping through her fingers when she sings, "Fragile in the morning/Can't hold onto much of anything with this hole in my hand." Her voice is as smooth as water, and the chorus-like background vocals makes the listeners feel as though we are ascending to heaven.
2022 has been a big year for music, and it's not even over yet: SZA is dropping an album on Dec. 14, just before the year comes to an end. 2023 is supposed to be another year filled with great new album releases. Iggy Pop, Måneskin, and Lana Del Rey are all scheduled to come out with new music early next year, so stay tuned. See you in the new year, music lovers!
About the Contributors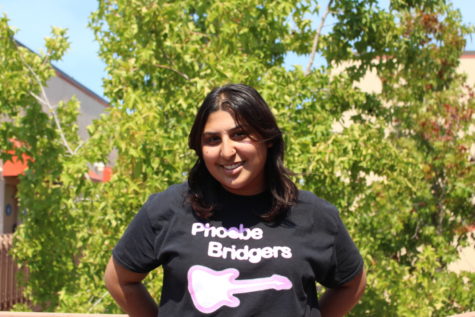 Arna Churiwala, Writer
Hey Warriors! I'm Arna Churiwala and I'm a staff writer for the Golden Arrow this year. As a staff writer, I get to interview many of the wonderful...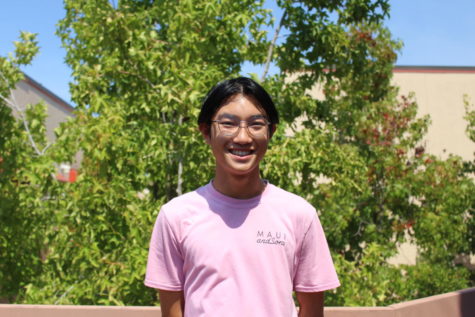 Ocean Pham, Photographer
Hey Warriors! My name is Ocean Pham and I am excited to start my first year in Golden Arrow as a photographer! I hope to share my skill in photography...