The Varsity Girls' Basketball Team Looks Forward to Cooking Up Chemistry in the Run to Defend Their League Title
The bonds the Woodbridge High players create with each other will be crucial as they navigate a season that should be filled with intrigue
The Woodbridge High varsity girls' basketball team boasts an impressive history, and the program kept up the winning culture last season by claiming the Pacific Coast League crown yet again, going a dominant 12-0 in league play. This season, they have no intention of slowing down.
Senior and team co-captain Kara Lao explains an extra motivating factor the team had last year. "We wanted to fill the banner in the big gym, because there's this history of winning league champions throughout the entire girls basketball program."
These banners, commemorating championship-caliber teams, are up for all to see, and it's a point of pride for the members of those memorable teams to be represented that way.
The team certainly fulfilled that goal last season, and an apparent theme in their success was the impressive chemistry they possessed.
"I think [without the team chemistry] we wouldn't have had our success last year," senior and co-captain Maddie Yasui said. "Our chemistry allowed us to work together on the court and so it also meant we knew each other and how we played."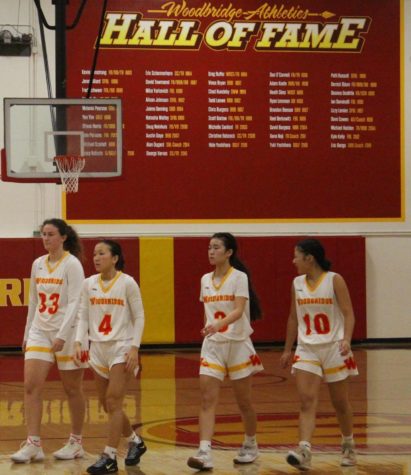 These bonds were several years in the making. 
"We had basically all played together the year before and I think that really went well coming into last season," Lao said. 
Chemistry is not just something that comes naturally of course, which demonstrates the impact of bonding off of the court. 
"We're just trying to learn how [our teammates] play," junior and starter Teagan Burrus said. "So in practice we're just trying to…make sure everyone is on the same page."
This chemistry is not the only key to their success. As Lao points out, the mindset one has on the court is also very important. 
"I think for the team we really want to focus on kind of going into every game like it's the first game of the season. I think sometimes we would kind of let past games affect how we play or our mindsets into the oncoming games," Lao said.
That being said, success isn't a thing that will just fall in the team's lap. As things change and players move on and graduate, new faces come to take their places, which does not come without some growing pains.
"A lot of seniors left last year, and they were really the backbone of the chemistry we had," Yasui said. "It's definitely harder because we don't know [the new players] as well as we did with seniors last year, and they're just not as close with us [yet]."
Additionally, there's also always room for improvement when it comes to the game.
"Whatever team we played we kind of played to their level," Burrus said. "We don't necessarily play at our own level where we can control the game more, we kind of play down or up to a team."
However, that's not to take away from their impressive performance last year, which they still hope to emulate. As captains, Yasui and Lao both understand their responsibility to help and guide the newcomers and anyone else who might be struggling. 
Lao explains that being honest and open with one another is key, and recognizing people's lives outside of the sport. "Your basketball [playing] won't be good if you're stressed about a grade or dealing with something in your family life," Lao said.
Another challenge of the basketball season is the game planning that comes with each unique opponent, and the shifting of approaches when facing different teams. 
"[Game planning for different teams is] very difficult," junior and other captain Hana Watanabe said. "We have one set defense, just man, and we always run it: it's our tradition. But if we have a really solid defense then it's less difficult for us."
Yasui describes this process of switching game plans for different teams in a playoff environment: "We had to completely change what we did for [Orange Lutheran,] since their team was a lot bigger size-wise."
This game planning will be further put to the test against a new face in their league: Sage Hill High, who was just added for this upcoming season.
Burrus says Sage Hill provides a new test due to their size and skill. "They play more like a club team…so it's something we're not used to in [our] league."
While the season may naturally have its twists and turns, there is no reason that the team shouldn't pick up right where they left off last season.
"I'm excited. I think we all have our personal goals and team goals, and if we work hard enough I'm sure we'll get there," Watanabe said.
The challenges may seem daunting, but confidence is always the first step.
"It's going to be a little tougher than last year, but I think we can do it," Yasui said.
Now a member of Division 1 in the California Interscholastic Federation (CIF), they opened against non-league opponent El Toro on Nov. 19, and began league play against Sage Hill on Jan. 17, 2023. Their chemistry should now be well established and ready to carry them to new heights.
About the Contributors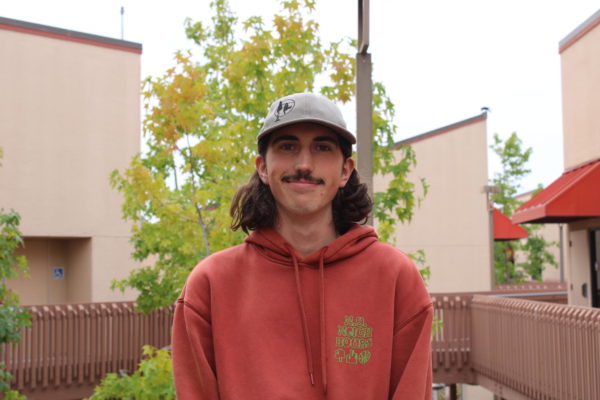 Jackson GIllies, Sports Editor
Hi everyone, I'm Jackson, and this year I'll be Sports Editor for the Golden Arrow! I'm so excited for what will be my third year in the journalism...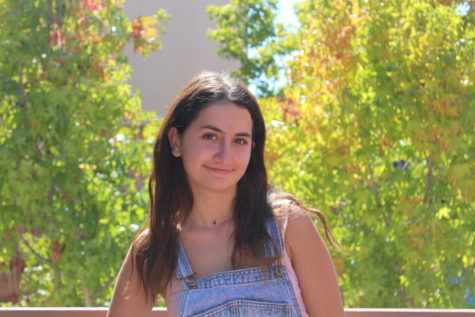 Elina Rizi, Photo Editor
What's up Warriors! Tis I, Elina. I'm so stoked for another awesome year at Woodbridge, and I can't wait to see what the year has in store for us :-)