Stress Management: Try These Thearapeutic Hobbies
In times of stress and pressure people need a way to liberate themselves. Here is a list of hobbies that can help you relax and maintain a healthy state of mind
According to headtohealth.com, "Research shows that people with hobbies are less likely to suffer from stress, low mood and depression. Activities that get you out and about can make you feel happier and more relaxed." As we gear toward the Advanced Placement (AP) exam season, here are a variety of hobbies that can effectively make the most out of your time.
Kalima
Also referred to as a lamellophone or a "thumb piano," the kalimba consists of a wooden soundboard with steel keys (also called lamellas) coming out of it. It is known to be one of the most relaxing instruments due to the peaceful and calm sounds it produces.
According to dictionary.onmusic.com, "Kalimba produces a haunting, fluid percussive sound that is considered tranquil and enchanting. Since you can play either simultaneous or alternating between both thumbs, harmonic and rhythmic effects are possible." Calming sounds, such as the ones that come out of the kalimba, can play a role in combating stress and reducing anxiety. According to music therapist Tim Ringgold, music is able to offer a great diversion from any internal and external sources of stress by triggering a response of pleasure and joy in our brain which causes it to focus solely on the music signals, allowing us to forget about our stresses.
Tongue drum
Tongue drum is a percussion instrument with an oval shape that produces a relaxing and calming sound that eases the mind.
Unlike the kalimba, the tongue drum has its keys or "tongues" within its surface. Each one of the tongues creates a different sound by hitting more than one tongue at the time a chord is produced. What makes the tongue drum a great percussion instrument is the fact that it does not require much musical expertise to play.
Furthermore, the tongue drum is a great way to reduce stress and other problems since it is a form of music therapy due to the soft and peaceful melodies that the instrument produces.
"There are two types of music therapy: receptive music therapy and active music therapy. In receptive music therapy, the tongue drum will be played for the patient. As the patient listens,
they may be asked to meditate, focus on something specific or close their eyes. This type of therapy will help with increasing overall mood and reducing stress, anxiety and pain while en-
couraging relaxation," shantibowl.com says. "Active music therapy, on the other hand, involves the client playing the tongue drum."
Knitting
Knitting has been proven to be an effective activity to reduce stress levels and improve overall tranquility. Princeton University's Doctor Barry Jacobs conducted research that found that animals who execute the same repetitive movement or motion triggers a release in the serotonin neurotransmitter, which is connected with an organism's well-being and its sense of calm. The same biological process occurs in knitting
with its repetitive, rhythmic motion.
Aside from the beneficial health aspects, knitting also offers other rewards. The creation of pieces of clothing is another beneficial reward that comes from knitting. People can create delicate accessories such as headbands, hats, scarves, beanies, gloves and other warm and comfy gear. On the other hand, knitting can provide economical benefits since people are able to sell their creations and accessories and generate a profit.
Gardening
Gardening is beneficial both mentally and physically as it promotes outdoor aerobic exercises as well as improvements in the health of many organs such as the heart and the lungs. In the aspect of the mind, it reduces stress, promotes calmness and increases satisfaction.
Moreover, gardening promotes a decrease in cortisol levels, which is the primary stress hormone. It was also concluded that people feel much better and have a great attitude after gardening. Another reward that is present in gardening, other than the physical and mental benefits, is
the actual products we get from gardening. There are many crops that people can grow that benefit their mental health and combat related problems, such as anxiety and depression.
According to seedtospoon.net, growing crops such as asparagus, turmeric and chamomile are great for boosting mental health. Asparagus have an abundant amount of folate which helps boost a person's mood. Turmeric is known to lower stress hormones, and also works as a great antioxidant. Chamomile is a flower that is linked with relaxing characteristics once consumed, usually in the form of tea.
Some students are able to transform their hobbies into viable businessses, such as senior Lana Makarem, who has her own press-on
nail business, laksnailshop. If you are interested in learning more about what Makarem does or would like to puchase a set of custom
nails, visit her page on Instagram or Etsy at @laksnailshop.
Q: How did you find your passion for making and painting nails?
A: "It's something I'm really good at, so that helps me get better, and I impress myself when I'm able to create really small designs
that are really detailed. Seeing myself continuously improving and seeing myself making art that is really pretty really helps."
Q: How would you say that making and painting nails, and creating such beautiful art helps with relieving stress and anxiety?
A: "It's something I can do whenever I want at my leisure. So if I don't want to do homework but I want to do something produc-
tive, I can just go sit at my desk and start painting a nail. It's also very flexible for me, I can just paint one nail at a time or I can come up with any idea I want and paint it, so it's just an outlet to do something relaxing that takes my mind off other things, because I put
my whole thought process into that."
About the Writer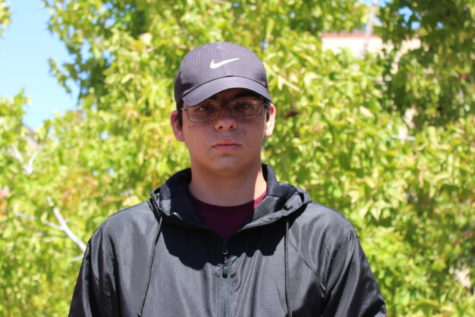 Alberto Neira, News Editor
What's good Warriors! I'm Alberto Neira, and I'm proud to say I'm your News Editor and a writer this year. I've been in the Golden Arrow for four years...