Service Clubs: Introducing New Approaches to Enliven Our Community
Woodbridge High's campus is home to over 100 clubs, offering a variety of volunteer opportunities and community events
Key Club
Supported by another international organization called 'Kiwanis,' Key Club is
one of the largest and oldest student-run non-profit initiatives. Since its establishment in 1925, Key Club has provided numerous volun-
teer opportunities for students across the world. Woodbridge Key Club offers 2-3 volunteering opportunities each month, with some organized by the California-Nevada-Hawaii (CNH) division. After noticing that Woodbridge High's Key Club was inactive in the past, junior Justin Jeon recharterd it this year with help from the CNH division. Now, Key Club has grown to be one of the most active clubs in the CNH district. For those interested in this club, look for volunteer opportunities at @wood-bridgekeyclub_ on Instagram and join the Remind code @whsk2y. For more information, check out the Linktree and Discord server at linktr.ee/woodbridgekeyclub
Students Against Homelessness
Starting originally as an unofficial organization between a group of friends, Students Against Homelessness has now found its place this year as an official club on the Woodbridge High campus. Club president and junior Wesley Zeng was inspired by his friend at University High to expand Students Against Homelessness to his own campus.As an organization, Students Against Homelessness strives to help those experiencing homelessness through volunteerism. From raising money to gathering food to donate, Students Against Homelessness has made efforts towards directly helping those facing homelessness. Before the club was officially established last year, Zeng and his friends already volunteered at OC mission and hosted several unofficial food drives. Although this club is relatively new, Zeng plans to expand Students Against Homelessness's influence to other cities. "We were thinking about going to a place in LA called Skid Row, and we're trying to contact a nearby homeless shelter to donate food, clothing and toys for Christmas." For those interested in this cause, more information can be found at @stu-dentsagainsthomelessness on Instagram. Zeng advises students to join and work with students from University High's Students Against Homelessness Club. "[Getting] as many people involved allows us to do more," Zeng said.
Hunger Warriors
Hunger Warriors aims to combat food insecurities with volunteer opportuni-
ties at local food banks and raises awareness through South County Out-
reach. Hunger Warriors has worked with OC Food Bank and Someone Cares Soup Kitchen to build 600+ food boxes last year. Eager to maintain this level of involvement, club president Yumin Park is looking forward to organizing a food drive this year near the holiday season with a local food bank. "Everybody deserves to have access to food, especially during the holiday season," Park said. Hunger Warriors meets on the last Thursday of every month in Room S1. Students can gain hands-on experience helping those in need of assistance. For students wanting to pursue volunteering at Hunger Warriors, there are board positions open next year. Stay tuned in for reminders using Remind code @whshunger.
Paws For Cause
For those interested in crafting and gaining service hours, Paws for a Cause is the perfect opportunity. Even if you can't directly adopt the animals, Paws for a Cause helps students support animals indirectly with donations and hand-made items. By collecting donations for pet food and toys, Paws for a Cause aims to support animal shelters especially during the cooler seasons. Club members also craft handmade blankets for the animals to use during the cold weather. "Donations and blanket-making is the perfect event for people with animal allergies. Through this club, people can find new ways to support animals in many different ways," club president Kaena Hashimoto said. Students can join this initiative by joining the Remind code @pawsf and their Instagram @whspaws4cause.
Warm Winters
For those who enjoy crocheting and giving back to the community, the Warm
Winters club offers a chance to connect. Throughout the semester, students work on crochet and sewing projects that will be given to senior centers and homeless shelters. Club president Seti Hemmati emphasizes the importance of indirect volunteering. "Sometimes indirect volunteering is just as worthy as direct volunteering. When you're crocheting and thinking about where this is going…you are a part of it." Along with engaging with their community, Hemmati aims to foster a personal connection with the people receiving the donations. "I was thinking of dropping [the projects] off…and talking to the people at the centers, and people are free to join me," Hematti said. For those interested in this initiative, Warm Winters meets weekly in Room J203.
About the Writer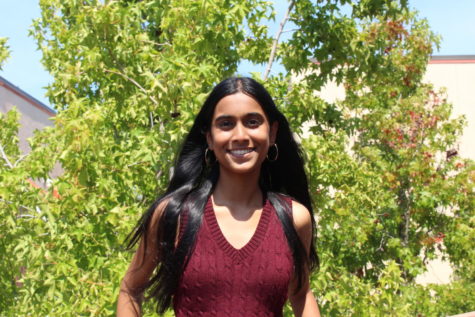 Manasaa Meenakshi, Opinion Editor
Hello! My name is Manasaa Meenakshi and I'll be this year's Opinion Editor. I've been a part of our journalism program for two years, this being my third...