The Soundtracks for Starting Spring
A great few months for women in music: SZA, Caroline Polachek and Gracie Abrams all dropped powerful new albums
As the new year has begun and spring is quickly approaching, the music world has been flourishing in 2023, and it's only been three months. Speaking of, happy March (otherwise known as Women's History Month)! In honor of this, I've put together a set of albums only released by women over the past few months to review in this column installment. One R&B, one hyper-pop and one indie, demonstrating how women dominate in all areas of the music industry.
SOS – SZA
Released Friday, Dec. 9, 2022
SZA's sophomore album, "SOS," marks her long-awaited return to the music industry following a five-year hiatus. The 23-track monster of an album was certainly worth the wait. SZA raps, wails, belts and whispers about toxic relationships, insecurities and her newfound self-confidence.
The opening title track, "SOS," serves as an introduction to the album as a whole rather than an individual song. SZA sings of her return in the lyric, "Coming back, she's so candid/Coming back snatched like bandit." This rap cadence flex speaks of coming back better than ever, and reclaiming the power over her music after previous issues with her record label. 
SZA's rock-salt rasp paired with her hilarious songwriting leads to some incredibly catchy bars. In "Kill Bill," the biggest hit off of the record, SZA sings, "I'm so mature, I'm so mature/I got me a therapist to tell me there's other men." This song, inspired by the classic Tarantino film, has SZA fantasizing about killing an ex, similar to the plot of the movie. The electric bass provides an uplifting background to SZA's homicidal intentions. She's driven by a devoted love for her ex, as she sings, "Don't you know I did it all for us?" 
"Seek & Destroy" and "Smoking on my Ex Pack" go into depths of the destruction and pain that come with love, and SZA's journey to move on and regain her self-confidence. She's willing to end a relationship if it's better for her own well-being, prioritizing herself over her partner. SZA knows her worth when she sassily raps, "He's screaming, 'Get back together!' I'm screaming, 'Back of the bus, trick!"
SZA calls back to classic R&B styles in "Love Language," where she begs her partner to communicate with her: "Show me how to connect to you/Help me understand how you speak your love language." The next track, "Blind," is a refreshing, slower song about not seeing things that are right in front of you. SZA's fast rap cadence juxtaposes the slow guitar strumming; smooth and clear like flowing water. 
The beat slows even further down in "Snooze," clearly produced by Babyface and incredibly reminiscent of the classics. The intimate, slow-like-honey chorus sings of the dizziness that new love brings. Another tongue-in-cheek reference to a Certified Film Bro Movie, SZA mentions, "I feel like Scarface." Following this pattern, "Gone Girl" is titled after another one of my favorite Rosemund Pike films which gave us the iconic Cool Girl Monologue. SZA is at her best in mid-tempo songs, like "Gone Girl," where her vocals get the limelight they deserve. "I tried to erase/I live to escape," she sings of leaving a suffocating relationship.
"Nobody Gets Me," is one of my personal favorites off of "SOS." The classic 90s love song "Fade Into You" by Mazzy Star provides the backing track to SZA's emotional ballad. "I only like myself when I'm with you," she cries about missing the only one who really understood her. "Special" delves into SZA's insecurities and body dysmorphia in a slow, almost Swift-esque way that compliments SZA's voice beautifully. The electric pulses and reverberating bass throughout the album add a smooth continuity to the wide variety of styles and themes.. 
Some of the most beautiful lyrics on the record are in the hazy, mid-tempo track, "Good Days," where SZA speaks about moving away from past issues on to a positive future. "All the while, I'll await my armored fate with a smile," she poetically sings about waiting for things to get better. 
Highlighted Tracks:
"Ghost in the Machine"
The widely anticipated collaboration with Phoebe Bridgers (cue my screams), left me absolutely breathless. The finger strummed guitar in the intro is clearly influenced by Bridgers, directly taken from her song "Halloween." "Ghost in the Machine" is about SZA's frustration with the music industry, and her seeking comfort in her partner. She sings, "Can you distract me from all the disaster?/Can you touch on me and not call me after?/Can you hate on me and mask it with laughter?" The glitchy electronic harp adds a layer of eeriness to the track, and further emphasizes SZA's fears of a futuristic world run by technology. SZA beautifully sings of the music industry stripping her of her humanity. For Bridgers' verse, the background music quiets down, putting full attention on her soft, melodic voice. Tears are brought to my eyes immediately as she sings, "Standing on my own in an airport bar or hotel lobby/Waiting to feel clean." Only Bridgers can invoke such emotion in an eight line verse.
Desire, I Want to Turn Into You – Caroline Polachek
Released Tuesday, Feb. 14, 2023
Caroline Polachek, alternative-pop singer-songwriter previously of indie band Chairlift, released her fourth album, titled "Desire, I Want to Turn Into You," this Valentine's Day. The electronic, synth filled, loud album covers themes of ego, empowerment and the beauty of living, as well as the dramatic diva archetype.
Polachek's "Desire" begins with a bang, or rather, a long, melodic scream. The opening track, "Welcome To My Island," takes us to Polachek's utopia, an island filled with palm-trees and a deep blue ocean. The robotic, monotonic spoken verses contrast the primal, powerful wailing. The album's title serves as the chorus which repetitively cries, "Desire, I want to turn into you," alongside many non-lyrical vocals and futuristic synths paired with piano. Polachek's yearning is as deep and clear as the ocean she sings of.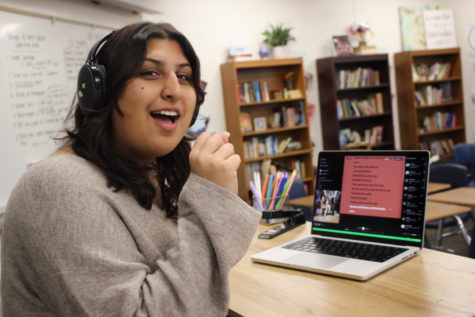 "Bunny Is A Rider" is a viral, hyper-pop, hot-girl-summer anthem about being unavailable. The funky bass line paired with the synths and Polachek's autotuned staccato make for an incredibly catchy tune. While the lyrics are rather simple and repetitive, this track is most focused on the fun beat and rhythm.  Polachek sings of an elusive woman who's not able to be found because she has abandoned society for the jungle. This song brings the listeners the notion that there might be a "Bunny" in all of us. 
Throughout "Desire," Polachek experiments with many styles, including new wave, hyper-pop, trance, indie, and music inspired by other cultures. "Sunset" is a flamenco-inspired track with a Spanish guitar behind Polachek's melodic confessions, such as, "These days, I wear my body like an uninvited guest." In "I Believe," Polachek sings of a destructive relationship. The romantic lyrics like, "You made it home with silver string unbroken/Ain't that the sweetest gift?" are juxtaposed by the painful chorus, "Violent love, feel my embrace."
The next track, "Fly To You," which features Grimes and Dido, Caroline's balladic melody is contrasted by Grimes' high-pitched staccato verse. Themes of a violent love return in the lyric, "Violence made me gentle at last.". The three sets of female vocals harmonize euphorically, giving the listeners the illusion of ascending. 
"Blood and Butter" is a grotesque song about Polachek wanting to be as close to her lover as possible, crawling inside of him and needing no sustenance other than "the sun that's in [their] eyes." The topics of this song are reminiscent of Ethel Cain's horribly painful "Preacher's Daughter." The graphic images of Polachek wanting to become one with her lover are metaphorical for her desire to explore the hidden depths of them, as shown when she sings, "Let me dive through your face/To the sweetest kind of pain." The bagpipe solo in this track attempts to connect Polachek's electronic vocals with the folky, mythological themes, and does so seamlessly.
"Desire" ends perfectly with "Billions," in which Polachek speaks about the sheer sensuality of being alive. She sings, "Psycho, priceless, good in a crisis." The good and bad qualities represent the nuances of morality in today's world. The chorus in which Polachek further and further butchers the pronunciation of the word "Billions," sums up the images of affluenza and abundance describes in the verses. 
"Welcome To My Island" began the album with a sense of bratty selfishness. "Billions" ends the album with a sense of complete selflessness, showing how everything falls away in the face of the beauty of living in this complex world. 
Highlighted Tracks:
"Pretty In Possible"
The lyrics in "Pretty In Possible"  are some of the deepest on the record, such as when Polachek sings, "Potential is the drug they never knew you never tried." It's an incredibly dance-able, upbeat song filled with themes of ego and money, with little moments of introspection. Only Polachek can put a complex Greek mythology reference in the same verse as the word "bae." Throughout "Desire," Polachek purposefully overuses autotune, especially in this song where her vocals sound almost electronic. In a Cocteau Twins reminiscent way, the song feels a bit hazy and spacey, in a euphoric, psychedelic way. "I was born to get you home," might be my favorite lyric on "Desire." 
"Crude Drawing Of An Angel"
The slowest, sultriest and most intimate track on "Desire," "Crude Drawing Of An Angel" is about Polachek's fears of going further in a relationship, because she knows it will end.  The title of this song is so creative and beautiful itself, immediately defining itself as my favorite. In the pre-chorus, she whispers "Camera one, camera two," giving the illusion of Polachek feeling outside of her body and watching her actions like a television show. "All or nothing," she repeats, an apt description of the violent, destructive, all-encompassing love spoken about across the album.
Good Riddance – Gracie Abrams
Released Friday, Feb. 24, 2023
Singer-songwriter Gracie Abrams just released her first album, following the release of her EP, "This is What It Feels Like," in late 2021. "Good Riddance" is a gentle, quiet album filled with honesty and emotional vulnerability from Abrams, in which she candidly lets her listeners in on her private life. 
"Good Riddance" opens with "Best," in which Abrams confides in the listeners about being the problem in the relationship, a refresher from the typical mopey breakup song. "Used to lie to your face 20 times a day/It was my little strange addiction," she openly confesses over a hopeful, uplifting synth paired with the light strumming of an acoustic guitar. The lyrics in the bridge are incredibly powerful, but due to her whispering voice, it didn't invoke as much emotion as it could have.
In "I know it won't work," Abrams sings about not being good enough for the one who loves her over a typical indie-pop beat. She honestly tells this person, "You will love me until you resent me." There is a slight overuse of elementary metaphors in this track, such as, "I'm your ghost right now/Your house is haunted." The following track, "Full Machine," speaks of Abrams going through a heartbreak and missing the one she loves. This track is also chock full of metaphors, like "I'm a forest fire/You're the kerosene." Abrams' voice is incredibly beautiful, that can't be denied, and the bridge is lovely. However, there is quite a bit of telling rather than showing when she sings, "I'm codependent but trying hard not to be." 
While Abrams' sound stays consistent throughout the album, giving her a distinct sound, it can get a bit boring due to the lack of experimentation. Abrams is known for her whispery style of singing, but sometimes this whispering can cause every song to blend together.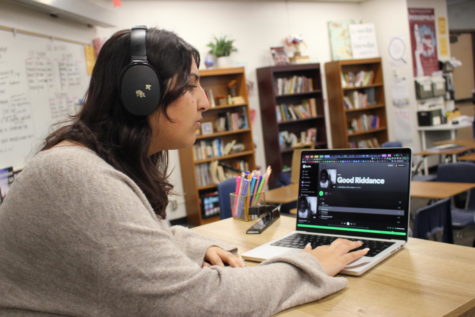 Next up, "Where do we go now?" is about being at a crossroads in a hopeless relationship. Some of Abrams' best songwriting is on this track, like when she emotionally sings, "All our best years are left behind/What a brutal way to die/But you choose it every time." The production causes the song to be staticy and filled with synth pulses, distracting from her vocals. The chorus of Abrams repetitively asking, "Where do we go now?" effectively communicates her desperation for someone to tell her what to do.
Abrams further demonstrates her emotional vulnerability when she confesses her struggles with mental health. In, "Difficult," Abrams thinks that she's difficult to deal with because of these struggles. "To name this feeling would take a hundred thousand years," she sings about how frustrating mental illness can be. Themes of using alcohol and drugs to cope are spoken of throughout this album, coming to a crux in "This is what the drugs are for." Abrams' ex was the one helping her out of her struggles, so she wonders what she is meant to do post-breakup as she sings, "What am I supposed to do when you used to be my lifeline?" This heartbreaking track allows complete focus on Abrams' voice,  putting a pit in my stomach (in a good way).
The closer of "Good Riddance", titled "Right now" is about the struggles that come with growing up and moving out. Alongside an eerily quiet backtrack, Abrams is missing the home she grew up in: her dog by the door, her mom's voice, the glow of the refrigerator. The most powerful lyric in this song, and maybe the album, is when she sings, "Am I losing my family every minute I'm gone?/What if my little brother thinks my leaving was wrong?" The idea of never being a kid again looms heavy in my junior-year-mind, and here come the waterworks. 
Overall, "Good Riddance" was beautifully written with clear influences of Swift, Bridgers, and Clairo, but it just wasn't individual enough to stand on its own. Due to the whispering vocals and repeating backtracks, differentiating between songs became difficult, covering up Abrams' talented songwriting skills.
Highlighted Tracks:
"I should hate you"
This track might be one of the least produced, and that may be the reason for its beauty. The simple, classic guitar strumming creates a beautiful backtrack to Abrams' emotional vocals, finally giving the listeners more than deadpan whispers. "Last night, I spiraled alone in the kitchen/Making pretend that the furniture listened," she begins the song by singing. The chorus in which she repeats, "I should hate you," has so much passion and emotion in it, getting louder and louder. With each chorus, Abrams increases the number of times she repeats it, representing her spiraling about the difficulties of trying to hate someone you once loved. 
"Amelie"
The hazy piano combined with a finger-picked guitar creates a beautifully simple, genuine backtrack to the heart wrenching "Amelie." Abrams voice breaks and rasps as she sings, "I met a girl once/She sorta ripped me open," adding a rawness to this track and giving anyone listening immediate goosebumps. Abrams sings of a brief encounter with a girl that lingered in her mind ever since, even though this one interaction probably wasn't significant to Amelie. This track was absolutely hypnotic; an aching beauty. 
Over the next few months, some much-anticipated albums will be dropping. Lana Del Rey's "Did you know that there's a tunnel under Ocean Blvd" is one that I, personally, am counting down the days for. Also, Boygenius, the trio made up of Julien Baker, Phoebe Bridgers, and Lucy Dacus, is scheduled to release their debut album, "the record," on March 30, so that's another one to look forward to. My concert tickets have already been purchased. See you on the next one, music lovers!
About the Contributors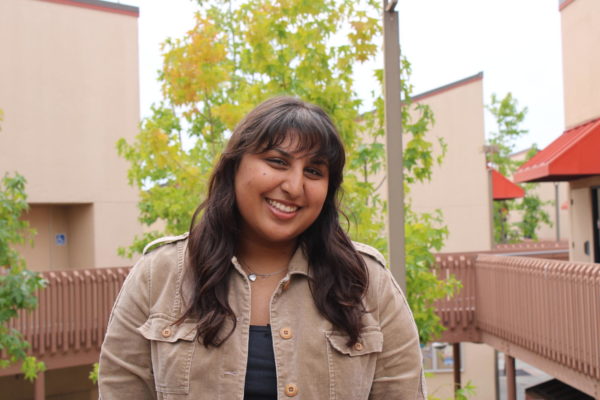 Arna Churiwala, A+E Editor
Hey Warriors! I'm so beyond psyched to be your Arts & Entertainment editor this year. My passions include music, film, and all things A&E. During...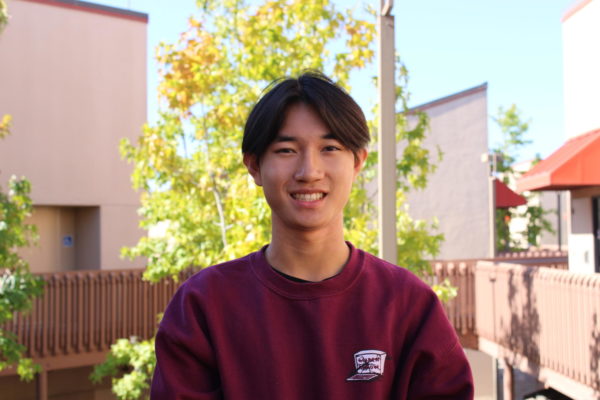 Ocean Pham, Photographer
Hey Warriors! My name is Ocean Pham and I am excited to continue my second year as a photo editor! I hope to share my skill in photography in our issues...