Unity, Support and Encouragement: The Key to the Track Team's Success
Here at Woodbridge High, it's very likely that you've seen the track team at least once. When the last bell of the day rings and most are let out of school, they can be found at the track, warming up with stretches or laps. At first glance, it may seem that they are doing no more than running around the track, each with their own solitary purpose. However, taking a closer look reveals one of the most unified sports on campus.
"The thing about track is that from the outside you assume that it is very individual and that there's not a lot of communication with your team," junior and track team member Gareth Forde said. "But one of the main parts of track is that when you warm up we all warm up as a group…track is individual more so off-season, but when the season starts it's very more so a community."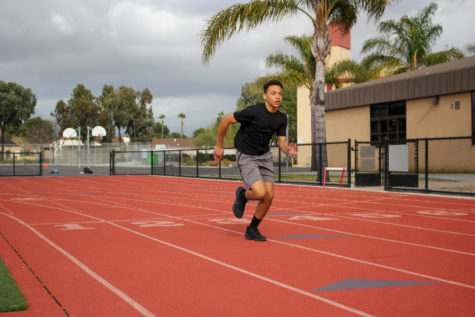 As the season begins and practices start, having that group mentality goes a long way towards improving your mindset for competition. Track is a very physically demanding sport, and having others to share that experience with you furthers the sense of unity within the team.
"I think during practices you really feel like a whole because everyone is in pain together from running," junior and track team member Priscilla Lee said. "I think it kind of unites us because we're all going through pain and cheering each other on."
Having that shared experience with everyone is certainly beneficial to feel like you aren't struggling alone. Healthy competition is also a great method of support to keep each other motivated.
"Just because you run the race alone doesn't mean you're alone on the track," sophomore and track team member Haley Ferguson said.
Building and establishing that comradery leading up to the season is very important, and it would definitely take something out of it if track was truly a sport where everyone did things entirely solitary.
"It would take the fun out of track," Forde said. "Track would still be a sport that I enjoy doing, but I wouldn't be looking forward to it as much if there was a bit less social interaction."
Having other people around you in a race setting also helps you to stay motivated and continue to try and improve.
"Honestly, I love going out there for practice because I get to see all of my friends and we get to talk to each other about our days and then do our workout," Lee said. "When you're running the workout, you're pushing the people around you and the pace, and when I'm running I want to keep up with those people in front. So I feel like without those people I could just go slower and would not be pushing myself to the limits I know I can go to."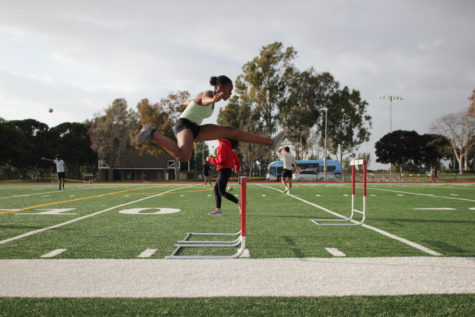 Without the team around through the preparation process, the headspace of the team members would also not be as clear.
"I feel like it would definitely affect the mentality of it because when you're running and you know that there are people watching you and you have the team to fall on if anything happens, it really helps with feeling like you're not alone on the track," Ferguson said.
All of this preparation is in anticipation of the track meets, where this team mentality continues to prove its merit. While, like any competition, it may seem daunting, the nerves should naturally be lessened a bit knowing that you have a team to support you every step of the way.
"I love getting on that track, and you're really nervous but you just know that your team is around you," Lee said. "I feel like whenever I'm at the last 100 meters that's when I'm like 'I can't do this anymore, it hurts so bad,' but when I hear [my teammates calling] my name I just want to keep going and it definitely pushes me to the end."
Track features a number of events; including races ranging from 100 to 3,200 meters, the 4×100 and 4×400 relays, hurdles, long jump, high jump, triple jump, pole vault and shot put. This theme of encouragement that surrounds the team is consistent throughout other's experiences in many of these events.
"I'm a 300 [meter] hurdler…but that last 100 meters is when I'm done. I don't feel like I want to run anymore. So I kind of let myself go a little bit," Forde said. "But then I'd say like 50 meters until the end, I hear my team saying 'Go, go, go Gareth you've got this!'…I don't know what I'd do without them."
Of course, track also uses a point system to score matches, so you truly have a responsibility to help your team try and reach the top.
"In the end it does matter because our points add up as a team during our meets," Ferguson said.
"When you have your team there supporting you it kind of uplifts you in the sense that you can't let them down," Forde said.
No matter the event, there is a good chance that the competitors will feel well motivated and prepared to give it their all, which would not be possible without the strong support by their team.
About the Contributors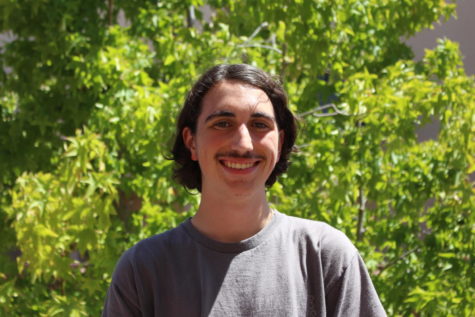 Jackson Gillies, Features B Editor
Hi! I'm Jackson Gillies, and I am the Features B editor this year. This is my first year as a member of the Golden Arrow and I'm excited to be able to...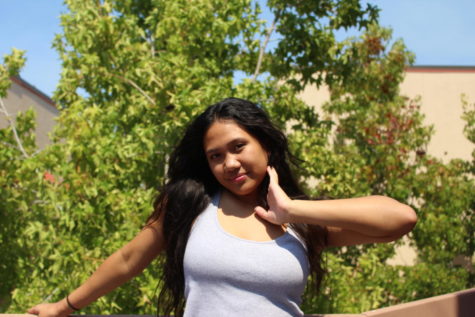 Kailah Cortez, Photographer
Hey Warriors! My name is Kailah Cortez and I'm a photographer for the Golden Arrow this year. It's my first year taking pictures for the Golden Arrow and...