Powerful Symphony Conducted Through the Musicians of Jazz Band
Musicians around Woodbridge High assemble whilst playing a multitude of different instruments under the guidance of a group called jazz band
Jazz band, a group of talented musicians, has a combination of both amateurs and advanced players who work in perfect harmony to produce brilliant pieces of music. Jazz band performs multiple times throughout the year and one of their most noteworthy performances is the Swing Dance, which occured on April 21. The Swing Dance is a perfect opportunity for jazz band members to make new friends and also learn a new method of dancing.
Junior saxophone player Jacob Mendoza encourages his peers to attend the Swing Dance in the future. 
"Last year's Swing Dance was quite memorable [because it] provided a unique opportunity to learn how to swing dance," Mendoza said. 
However, despite how easy others may think jazz band is, it actually requires an intense amount of practice and dedication.
Junior and novice trumpet player Peiling Lee stresses how important it is to practice playing outside of practice. 
"Learning a new instrument requires learning the fingering, embouchure, and playing the instrument, which requires a lot of practice and work," Lee said.
In addition to practicing outside of class, jazz band members are expected to practice at the beginning of school during zero period and also practice during their respective wind classes they have been placed into. 
Junior trumpet player Matthew Suzukawa understands just how humiliating it can be to play an instrument incorrectly. 
"You have to play [your instrument] well otherwise it'll stick out when performing to an audience," Suzukawa said.
But, becoming a skilled musician requires a lot of dedication and passion, which everyone has in an environment like jazz band.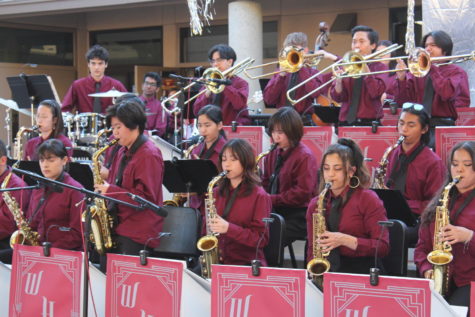 Being in a community of like-minded individuals allows jazz band members to make friends and strong relationships. Suzukawa emphasizes the connections he has made within the program. 
"[Jazz band i] a nice way to make new friends, play more styles of music, and have fun at events such as swing dance," Suzukawa said.
Spending so much time practicing together creates a strong bond between the members of the band. 
One experience that was memorable for Lee was participating in the honor band at Chapman University. 
"It was a full concert and everything was in one day which made it very memorable for me," Lee said.
For the musicians, performing is always a way for all of their practices and effort to be noticed by the audience. Some of the most memorable moments for the musicians is receiving recognition and appreciation of their talent and skills. 
Earning respect for themselves is also a crucial part of being in jazz band. 
"Playing jazz as a group is more than just simply playing notes to an audience, it has more of a style and a message when playing it which makes it fun for audiences to watch or listen to jazz band," Suzukawa said. 
Playing music goes just beyond learning the notes and learning the piece. It requires a deep understanding of the music and the ability to demonstrate their passion through the piece whilst playing it. 
Since joining jazz band, Mendoza has gained a newfound fondness for the genre and recommends others to join the program.
"Learning jazz is an enriching experience, especially if you already play an instrument and wish to learn more techniques," Mendoza said.
About the Contributors
Kailey Moore, Content Editor
What's up Warriors? I'm so excited to be the first Content Editor at Woodbridge High School. I'm ready to put my skills to the test and work towards greatness...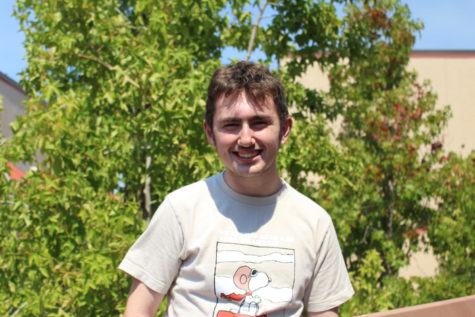 Brandon Foschetti, Photographer
Hello Warriors! My name is Brandon Foschetti and I am a photographer for the 2022-23 school year! I have loved photography ever since I was a little kid,...