As the two year anniversary of Russia's full-scale invasion of Ukraine approaches, student musicians led by senior Zara B'far and junior Benjamin Shih organized a concert to raise funds for Ukrainian refugees and for Woodbridge High's student-run Performing Program. The concert was performed on Oct. 6, 2023 in the Performing Arts Center.
Prior to the concert, B'far and Shih detailed how the concert was intended to provide aid for those affected by the Russian-Ukrainian war and help students throughout Woodbridge High's music department and Performing Program gain experience on a big stage.
"We had the idea to collaborate with a nonprofit to basically raise funds for both our music program and Ukrainian refugees because both of which have impacted the world significantly," Shih said.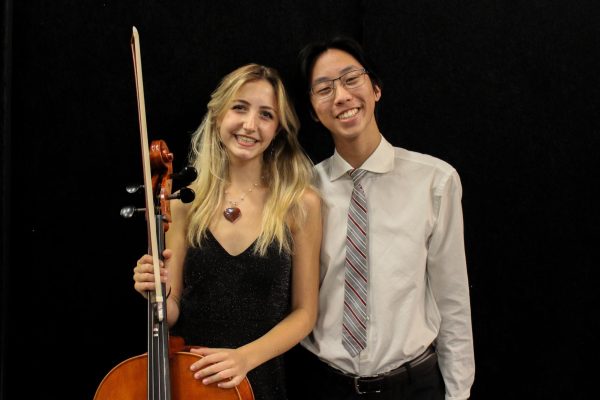 The Performing Program, which was founded by B'far and co-founded by Shih, helps the musician community at Woodbridge High gain the necessary skills for performing live. Shih and B'far believe in order to enhance the full potential of the Performing Program, the Performing Arts Center needs to be utilized so students obtain professional experience.
"We're going to have a very small presentation during the intermission kind of explaining how we're collaborating with the Ukrainian refugee project," B'far said.
The nonprofit the Performing Program partnered with is Irys Education. Their main mission is to provide Ukrainian refugees resources and Science, Technology, Engineering and Math (STEM) education as well as promote the testimonies of those impacted by the conflict in Eastern Europe.
Irys Education and the Performing Program made a small but important contribution to the increasingly global cause by hosting a benefit concert. On a national scale, according to National Broadcasting Company (NBC) News, since Feb. 2022, about 300,000 migrants from Ukraine have come to the United States, and more than $250 million dollars has been raised in the nation alone to help these refugees.
Preparation for what went into the concert was unique, as the concert was student run. The skilled musicians who wanted to perform solo or chamber pieces—those played by a small ensemble of musicians—were chosen by B'far and Shih. Many musicians were not able to play in the concert. The choice of the piece to play was left up to the performers, many of whom chose pieces from their private music lessons.
"We choose what we think will create a good program and we'll choose the performance that has the best recording or [has] the best performance…and we try to put together the most engaging program possible for our audience," B'far said.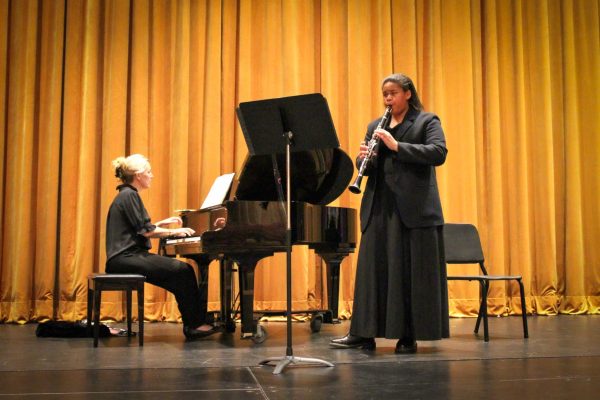 Not only was the concert a chance for musicians to play in a large performance hall, but a recording software was also present during the concert, which broadcasted a livestream video for those who couldn't come in person. Students like clarinetist and senior Michelle Lavender-Arene took advantage of the concert and the recording software to prepare their portfolios and resumes for after high school.
"I wanted to play the piece all the way through because I'm planning on applying to music schools for college…so I needed to use that piece for my auditions. But also I think I just like to perform, so I think I just took the opportunity to perform," Lavender-Arene said.
Instrumental music teacher and the advisor for the Performing Program Joslynne Blasdel applauds students like Shih and B'far for their courageous decision to assume significant responsibility for concert preparation and for the student musicians who performed.
"It's great that it was a student idea and there's lots of students that want to do it," Blasdel said.
"
We want to try help our school as much as we can, by holding more concerts and also helping the Ukrainian refugees as well," Shih said.
Performers took the advantage of the concert to show their musical talents off to a broad audience while taking part in a cause that has been in the mainstream of global news the past few years.
"I feel pretty good [about the concert]. I liked how [performing and raising money] mesh together. I was able to do something I really enjoy…and was able to help others also," Lavender-Arene said.
Shih and B'far talked about how their initiative to combine music and charitable deeds might be able to transcend to younger generations, creating further positive change for society.
"I feel like if we're able to have presentations and performances to show to younger generations how beautiful music can be and how much of an impact it can make on someone's life, we can starting helping grow a music seed inside of a child's life from a very young age," Shih said.
Story continues below advertisement