Daniel Yang: headed towards medical success
In a world where new diseases are revealed every decade and old diseases reemerge with a vengeance, doctors are even more pressed to treat patients and make proper diagnoses and prognoses. Senior Daniel Yang believes that he has discovered a more cost-effective and efficient way to find likely treatments for diseases.
"Generally, when you look at a patient you give them a diagnosis and prognosis, but the future of medicine is in personalization, like their genetic background or maybe their family background, so doctors can prescribe a specific prognosis for them," Yang said.
Yang's project, "Novel Prediction of Anticancer Drug Chemosensitivity in Cancer Cell Lines: Evidence of Moderation by microRNA Expressions", has gained him a spot, on Oct. 16, as a Siemens Foundation Semifinalist, a country-wide competition that offers $1,000 to $100,000 in scholarships for participants. 4,428 students registered in the competition, out of which less than 1%, or 406, students became semifinalists.
"Basically, the dependent variable I looked at was drug chemosensitivity and sensitivity to anti-cancer drugs and taking the microRNA expression data and the gene expression data and looking for the correlation between those to drug chemosensitivity," Yang said.
This high level of research is standard fare for Yang, according to his mentor, chemistry teacher Mike Antrim.
"He's done numerous projects. I had (Yang) as a freshman in honors chemistry and also as a sophomore in AP chemistry, and he did projects both years…however, he's done projects on his own that were not required in his junior year," Antrim said.
Yang's drive to achieve scientific success is belied only by his self-reliance and efforts to improve his research. Additionally, Yang runs two clubs focused on science, the STEM Club and the ACS ChemClub.
"One of the things that is very impressive about (Yang's) work is that he has done most of it outside of class on his own," Antrim said. "He figured how to get equipment [and] how to make contact with professional scientists…he did not really use me as a mentor that much."
Yang's research shows not only his achievements in science but also that of the science curriculum on campus, which is and has been set to a higher standard than most schools, according to Antrim.
About the Contributor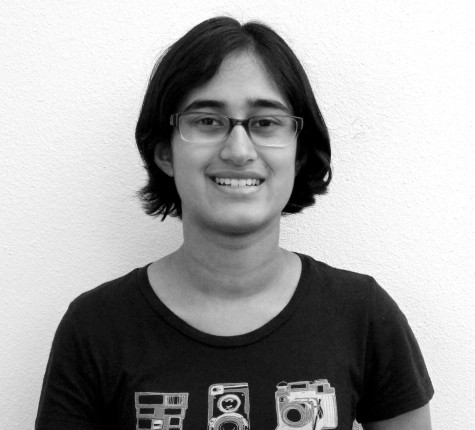 Avantika Vivek, Co-Editor-in-Chief
Hi, my name is Avantika and I am one of your Co-Editors-in-Chief for this year at the Golden Arrow. I've been in journalism for three years now, and served...