Not your average cup of joe
Orange County is known for it's "Starbucks around every corner" layout. With 21,366 Starbucks stores across America, according to Statista.com, it is no surprise it is the world's largest chain of coffee shops. Despite this, there are many independently owned coffee shops in and near Irvine that offer more unique coffee-based, Instagram-able drinks with latte art.
Coffee Tomo
Along with coffee, this Korean-based coffee shop is known for its pastries, specifically its delicious pretzels. Popular pretzel flavors include red bean, cheese and sweet potato. Beyond just the normal syrup-laced lattes offered at Starbucks, Coffee Tomo offers its signature Tomo Latte, a latte with the perfect balance of sweet and bitter notes, and the non caffeinated Sweet Potato latte and Red Bean latte, made with real bits of sweet potato and red beans. They also offer coffee that contains beans imported from Brazil, Sumatra, Costa Rica, Guatemala and  Ethiopia. With darker-colored decor, cool air conditioning and a spacious, mellow environment, Coffee Tomo has become a popular place for students to study and enjoy their drinks.
Portola Coffee Lab
Originally from the OC Mix, Portola Coffee Lab now has a closer location in the Union Market in Tustin. Unlike Starbucks, Portola offers three different brewing methods: V60, trifecta or siphon. The shop takes pride in the fact that the coffee beans sourced from Ethiopia, Central America, Brazil, Indonesia and more.They also offer other original drinks such as their signature Kyoto Iced Coffee, Rose Lemonade and Mocha made with chocolate ganache. The Portola Coffee Lab located in the OC Mix gives off a chemistry lab-like feel with a fake "Ko" element on the glass paneling of the shop and flowers in hario siphon pots.
Coffeebar Byul
Located in Diamond Jamboree, this coffee shop is known for its unique latte names, manual steep teas, and bright and pleasant decor. Two distinctive lattes offered are the Shanghai latte, characterized by its caramel and cinnamon notes, and the Gangnam Style latte, created with agave and multiple shots of espresso. Their coffee is also sourced from multiple locations, including Panama, Pakistan, Mexico, Ethiopia and Lake Tawar. The manual steep teas this shop offers include french lemon ginger and raspberry nectar; they steep behind glass panels for customers to watch. The interior includes multicolored wooden panels, geometric light fixtures and contrasting white walls with a chalkboard menu, making it a bright and comfortable space to have a drink with your friends.
About the Contributor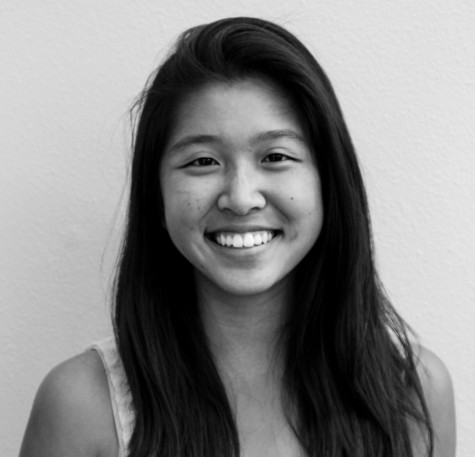 Brittany Chang, Director of Photography
Hey all, I'm Britt Chang, your 2014-2015 Director of Photography. I'm an extrovert who runs on our Track and Field team and drinks too much black coffee...