Burntzilla will be sure to stomp out your hunger
Grease – that's the word I thought of when I first heard of Burntzilla, a new Irvine eatery. This word is not a very flattering term, but that's what usually is associated with food from food trucks. Burntzilla is a creation formed by the combination of two separate Orange County food trucks— Dogzilla and Burnt. I figured that since the new eatery was the offspring of a union between two food trucks, the food it served would be greasy, oily and messily slopped onto a flimsy paper plate.
Boy was I wrong; the restaurant itself is clean and simple. Instead of individual tables, there are open countertops against the walls, giving the atmosphere a casual, airy feel. The layout of the eatery is on the small side; however, the minimalist arrangement makes the place seem larger than it probably is.
According to the menu, Burntzilla cuisine "is built on the Burnt Truck's modern take on classic comfort foods and Dogzilla's Asian inspired twist on the traditional American Hot Dog." Being skeptical, I believed that this eloquent rendition was an advertising strategy to gain customers. At first, I ordered cautiously, for fear of receiving heaping plates of cholesterol, calories and clogged arteries. I bought a 'Fried Chicken Slider,' which consisted of fried chicken, gravy and garlic potato spread on a small King's Hawaiian Roll, and a 'Yaki Zilla,' composed of Japanese yakisoba and spicy pork link on a mini hot dog.
When my food arrived, it looked surprisingly appetizing, on a plain, unadorned tray. The portions are small and very enjoyable. It wasn't dripping with oil or other unknown substances. In short, the cooking and the chow presented were an eclectically delicious mix.
In fact, I ended up going back to the counter to order dessert — a mint chocolate chip cookie ice cream sandwich, — and a second helping of the 'Yaki Zilla.' The dessert was lovely as well; it was a bit too sweet, but then again, what ice cream sandwich isn't?
The only fault I could find was the price. For one mini serving of any item on the menu, it would cost an average of three to four dollars; it's a little expensive for food that could easily fit in anyone's hand. The small serving size is innovative, however, because it caters to people looking for a small snack, not to hungry foodies looking for a filling meal.
Overall, l recommend this eatery — there's delectable food, an easy-going staff and a comfortable, spacious interior. If you have money to spare and want to try new food, then Burntzilla is the place to go!
About the Contributor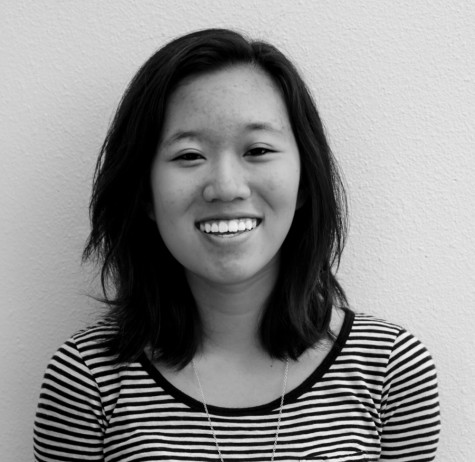 Michelle Bau, Opinion Editor
My name is Michelle and I am the opinion editor for the 2014-2015 Golden Arrow. It's now my second year writing for the newspaper and I'm super excited...