The Golden Arrow shoots for success
The Golden Arrow staff took third place in the Best of Show category for the newspaper's February issue at the OCJEA write-offs held Feb. 28 at Fullerton College.
Each year the OCJEA, or Orange County Journalism Education Association, attracts student reporters, yearbook staffs and news teams from around the county to compete and demonstrate their journalism skills at the write-offs.
Within this competition, student reporters can compete in the categories of editorial, sports, features, critical review and news. The categories of editorial cartoon, newspaper layout, yearbook layout and photography also allows journalists to display more than just their reporting skills.
"I feel like we have come a long way," junior and sports editor Avantika Vivek said. "Last year we didn't even place, and coming in third this year shows that we have done a lot to improve our writing and journalism program."
This year, award recipients include senior and social media manager Shawn Medow, who placed third in sports; senior and news editor Marian Sahakyan, who placed ninth in newspaper layout; Vivek, who placed eighth in editorial, and junior and staff writer Sam Koh, who placed ninth in critical review.
"It was a really nice experience, and I especially liked getting feedback from people not only from our school, but also people that are more experienced with and know more about journalism," Sahakyan said.
Because Medow and Vivek placed in the top ten of qualifying categories, they had moved on to state write-offs which were held on March 21 at Rancho Dominguez Preparatory School in Long Beach. In the State Write-Offs, senior and director of photography Brittany Chang placed second in news photography while sophomore Yechan Yang placed 10th; Koh placed third in critical review; Medow placed eighth in sports writing; senior and features editor Michelle Kang placed eighth in newspaper layout; Vivek placed 14th in editorial; and junior Bill Chang placed 15th in editorial cartoon.
"[I felt] honored, stunned and it took a little time to sink in," Medow said. "I did not expect placing third, because I was a beginner writer."
Encompassing more than 30 students from each Orange County school, the OCJEA allows student reporters to experience real-world journalism by addressing controversial issues, presenting live speakers, and by placing time-limits on each writer.
About the Contributor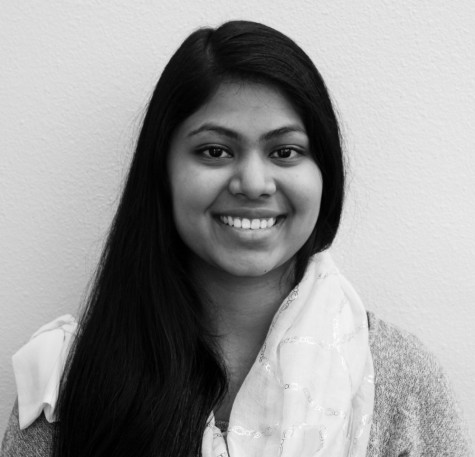 Aashi Jain, Ad Manager
Hi! I'm Aashi and I absolutely and completely love food, it has to be vegetarian though. I can eat almost at any time of the day, except the mornings....