A new era in professional golf emerges at the 2015 Masters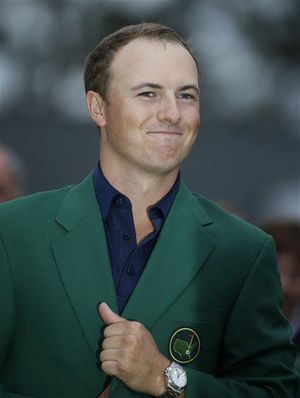 On April 12, Jordan Spieth (21) from Dallas shocked the world and won the Masters at the Augusta National Golf Club.
Spieth's triumph is more than just a win at a prestigious tournament. He broke the record for best score after the first day, was the first player to get to 19 under par at the Masters and tied the record for best overall score at the Masters, which Tiger Woods set when he scored 18 under par at the 1997 Masters.
"[Spieth] has so much talent," junior and golfer Justin Sheparovich said. "He never seemed nervous and just kept making clutch putts."
Even though Spieth performed well, other golfers like American Phil Mickelson and Northern Irishmen Justin Rose and Rory McIlroy all made late surges but ultimately came up short. Spieth's putting proved to be instrumental in his victory along with his focused and relaxed demeanor. He never panicked and showed maturity for a young golfer on such a massive stage.
"I think it's great for the game of golf to have young talent," senior and golf fan Ryan Taylor said.
Tiger Woods, who made a return after a period of absence from the sport, showed several moments of commanding play, resembling his old self. However, as he has aged and had to deal with the publicity of his scandalous affairs, Woods' game has diminished. Just when it appeared that Woods could make a run up the tournament standings, he began to slip and struggle as usual.
"[Tiger Woods] did pretty well considering how he's been on such a bad streak," senior and golfer Jake Del Rosario said. "His mindset has been different."
With Spieth now winning the Masters and players like 2014 Masters champion Bubba Watson fading away, professional golf is entering a new era where players like Spieth and McIlroy dominate the game. After an impressive weekend, all eyes are on the youngsters to become more than one-hit wonders.