Pitch Perfect 2 is off key
Pitch Perfect was the first unique, acapella-based comedy film of its kind that presented the aca-perfect mix of ridiculously hilarious moments, emotional scenes and superb acting to make it a must-see American comedy. Unfortunately, Pitch Perfect 2, the highly-anticipated sequel released May 15, was unable to match the amazing standards set by the first movie.
Pitch Perfect 2 picks up three years after the Barden Bellas became the first all-female group to win a national title. The group delivers an incredibly horrible performance at it's big show at the Lincoln Center, with an especially unexpected surprise from Fat Amy (Rebel Wilson) that destroys the team's reputation. This botched performance ruins the Bella name, and from here throughout the rest of the movie the girls struggle to reestablish their prestigious reputation and find their harmony as a team.
When going to see the movie, I was most excited to be too busy laughing to be able to be distracted or lose interest. Despite my strongest hopes, I felt that a lot of the comedic scenes in the film felt very forced, as if director Elizabeth Banks was trying too hard to make the audience laugh. In the first movie, I appreciated the moments where I did not expect to laugh but ended up laughing until my stomach hurt – like when Fat Amy gets shot by a burrito, Chloe (Brittany Snow) has a completely unexpected breakdown and Lilly (Hana Mae Lee) reveals how truly strange she is.
But in this movie, I felt that there were too many moments that were specifically designed to make the audience laugh, but they tried so hard that they fell short. Some of these moments include Beca's boss picking on his assistant Dax (Shawn Carter Peterson) throughout the movie and the excessive amount of jokes based on the clichéd representation of Flo (Chrissie Fit) as the Latina in the group who can nonchalantly speak about her experiences with the drug cartel and sex-trafficking back in her "home country."
Hopefully, in future renditions of acapella=based comedies, more attention will be paid to the art of subtle humor instead of forced laughter. Although I still enjoyed my time watching Pitch Perfect 2, I would not recommend you spend your money on a ticket if you have extremely high hopes for a sequel that lives up to the legacy of its predecessor. The fact that the movie earned $70.3 million during its debut weekend, according to washingtonpost.com, indicates the extreme hype that came with its release. Unfortunately, I would not be surprised if, like myself, many of the excited fans that went to see this film left the theater feeling disappointed.
About the Contributor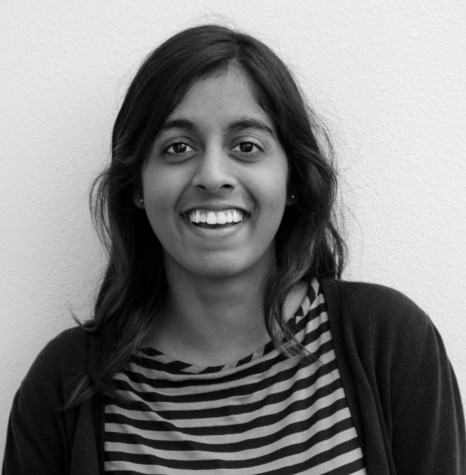 Disha Palimar, Arts & Entertainment Editor
Hey, I'm Disha, your Arts & Entertainment Editor of the Golden Arrow for the 2014-2015 school year. This is my second year as an editor and third year...