Retiring teachers ready to pass over their batons
After many years of seeing students come and go at Woodbridge, staff members of different departments prepare for retirement as their teaching adventures come to an end.
Elizabeth Perez
Spanish teacher Elizabeth Perez has spent a total of 37 years teaching students.
"I've been at Woodbridge for 30 years, and the students here are such nice kids," Perez said. "It has been a pleasure to come to work every day."
After teaching at both Lakeside and Woodbridge, Perez said she now looks forward to spending quality time with her husband as they embark on trips and new activities.
"I would like to do some volunteer work at a children's hospital, and I also might like to get involved in some community activities," Perez said.
Arne Cohan 
Secretary Arne Cohan has been working at Woodbridge for almost 14 years. Sitting in the front of the counseling office, she continuously greeted countless students and parents with a smile.
"A lot of people don't enjoy coming to work, but I come each day here with joy," Cohan said. "I love working at Woodbridge and I will miss it dearly, both the students and my friends."
As the year gradually comes to an end, Cohan said she is hoping to volunteer at the Birds of Prey Sanctuary and plans on visiting her grandchildren in Ohio.
Mary Brewster

English teacher Mary Brewster has been teaching at Wood
bridge for 30 years. With new education changes such as Common Core, Brewster said that she feels it is time to allow others to step in as she plans for her retirement.
"I'm just kind of ready to let the new younger people jump into that enthusiasm," Brewster said. "I have a big list of places I want to see and things I want to do."
Teaching over 150 students every day, she has created relationships with her current students as well as those who have already graduated.
"[Students]  come and go over the years, but it's a lot of fun, and I've learned a lot from them over the years," Brewster said. "I will miss Woodbridge; it's been like a home and family."
Lisa Vielhauer 
Having taught French and Spanish at Irvine High for 16 years and Woodbridge for 17 years, Spanish teacher Lisa Vielhauer said she looks forward to retirement and cherishes the students she has met.

"The students here at Woodbridge are so friendly and so polite," Vielhauer said. "I think now [my husband and I are] going to be able to enjoy whatever we want and whenever we want to do it."

Pat Bangs
Since 1981, girls swimming coach, visual imagery, art and yearbook teacher Pat Bangs has truly done it all.   

"This school has changed 180 degrees in the past thirty years, but it is a good change, and we continue to get new and better teachers and new and better technology," Bangs said. "Both my husband and I will travel, visit family and friends and continue to hang out with our kids."
With many plans and activities she hopes to do after retirement, she also said she enjoys looking back at her past experiences at Woodbridge.
"I have a lot of friends and students I am committed to and will miss," Bangs said.
Jesse Nauta
Auto shop and visual imagery teacher Jesse Nauta began his teaching career in 1981, a year after Woodbridge was founded. Having been at Woodbridge for 34 years, Nauta said he feels as though it is time to retire.
"It's that time in my life where I can pass the torch on to the next person," Nauta said. "We've always had a great staff, student body and programs, which is why I've been here for so long."
Throughout the years, Nauta has taught auto, graphics, photography and computer applications. With the year gradually coming to an end, he said he plans on going on trips while taking more time to focus on his personal pursuits.
"[I am planning to visit] a few little road trips to see parts of the country most people don't have time to look at," Nauta said. "I've been very blessed to be at a school like this."
About the Contributor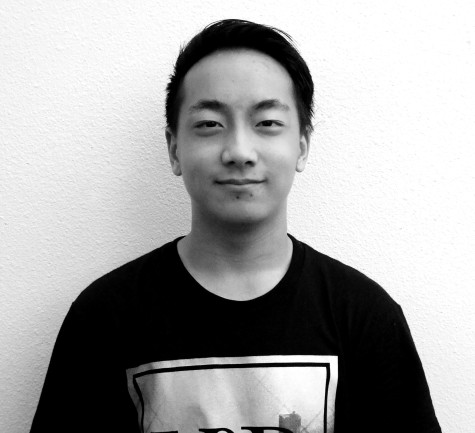 Vincent Hsueh, Sports Editor
Hey! My name is Vincent Hsueh and I've been a part of the Golden Arrow for almost three years. Oh, and I'm also a senior this year (time sure does...