SAT starts switching in 2016
College Board's redesigned SAT will start on March 5, 2016, brewing fear and concerns among students who are taking it.
SAT, which stands for Scholastic Aptitude Test, started in 1926 to assess students' college readiness. Since then, high school students have taken the SAT to meet college admissions' requirement of submitting standardized tests.  However, the trend of more students taking the ACT rather than the SAT caused the College Board to release the new SAT, according to counselor Jennifer Carrington.
"I think as long as students are preparing, their classes obviously prepare students for SAT; you don't have to do any kind of preparation," Carrington said. "That's why it's a good idea to kind of see how you do on some of the practice questions, maybe taking the PSAT, to see generally how you do, and then focusing your study for those areas that you struggle with a little bit more."
Due to the lack of prep books and sources, students are lost at how to prepare for the test. A non-profit educational organization called Khan Academy has free tutorial lessons and practice SAT tests, according to Carrington.
"The best thing students can do to prepare for the upcoming changes is to read more," SAT test prep instructor and admission counselor Ryan Choi said. "Reading will not only help them with their critical thinking and analysis but also improve their grammar, expand their vocabulary, allow them to add details to their examples, and much, much more."
Some major changes include changing the scoring back to 1600 instead of 2400. Obscure vocabulary words are replaced and graph/chart-based reading section is added, along with an optional 50-minute analysis essay. The math section is focused on multi-step problem solving and data analysis. According to College Board, the quarter penalty for wrong answers is now out, and overall, it will be more relevant to what students are actually learning in school, such as excerpts from U.S. founding documents.
"I think it's unnecessary. I think College Board just wants to get more money," junior Sarah Choi said. "I don't personally like it, and I don't really want to take it."
While there are some negative feelings towards the redesigned SAT, some think it's actually a good change.
"Keep calm and carry on! The change is not substantial enough to warrant panic. Soon, the SAT will be less SAT-ish and will mirror the design of the ACT."  Ryan Choi said.  
About the Contributor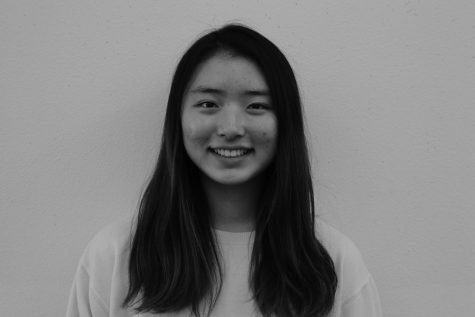 Bella An, In-Depth Editor
Hey Warriors, I'm your In-Depth editor for the 2017-2018 school year. I am honored to be part of our first year of transitioning from a newspaper to...