Surreal talent in artist on campus
With the precision of every stroke, junior Christine Evans has been drawing since she was able to hold a pencil and continues to express her talent in multiple art forms.
Artistic talent may not come naturally to everyone, but Evans has displayed this talent since the age of three.
"I've been drawing ever since I can remember, and according to my parents I refused to draw stick figures even at a young age because I drew what I saw, and humans don't have a bunch of straight lines for a body and a circle for a head," Evans said.  "That's probably where my foundation in drawing realistically began."
With her talent ranging a broad scale, Evans never fails to take an extra step by trying new techniques.
"I specialize in realism or surrealism, but I like to challenge myself by creating abstract or impressionistic pieces," Evans said. "I typically will use pastel pencils or graphite, and I love to sketch things with value and play with light."
Those around her take note of her versatility as an artist.
"I admire her fearless approach to taking on any challenges in art," her advanced placement art studio teacher Matthew Takeno said.
Evans' creativity and experience has led  her to create a unique style that inspires many other students.
"Her style is unique in her own way, and the way she does pencil is different from most people, where she uses brushes to blend," junior and art student Hojung Kim said. "I thinks she really likes to show emotion and sensory in her drawing, and she explores many ways to create unique artwork."
She has participated in many competitions and has won many award. Evans' paintings were chosen to be on display at the Veterans program at the IUSD District. Her paintings were also chosen as the best representation of metals at the Renaissance Fine Arts Program.  
"I have entered in art contests and have won a few, but nothing beats the satisfaction you get when your artwork touches others," Evans said.
Despite the heavy load of school work, Evans devotes an hour every day to draw and paint to let her emotions out.
"A lot of my pieces for my portfolio have really surprised me. I have developed a skill of seeing objects in negative light and then drawing the object in that light," Evans said.  "It looks really cool and unique and no one has seen anything like it before, so I'd say I'm really proud of those pieces."
About the Contributor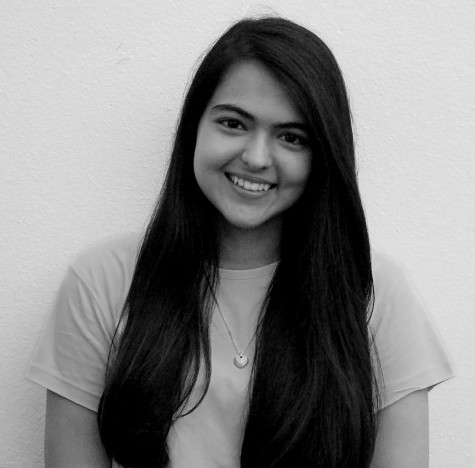 Ashna Paul, Features Editor
Hey guys!

My name is Ashna and I'm the A&E editor this year. A&E includes all the performing and visual art events at school, as well as many...