Wrestling with a challenging season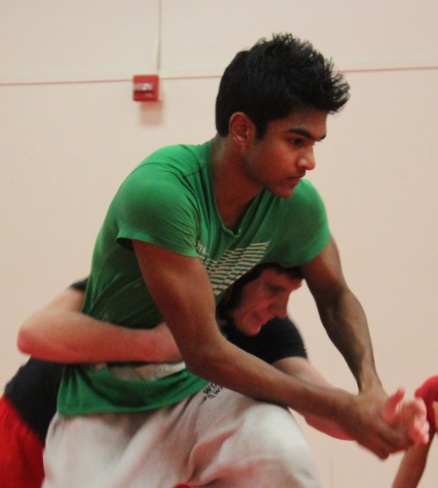 Wrestling (0-2) lost 28-50  against Irvine High in its second league match on Jan. 6 following a defeat against Corona Del Mar High during its first league match on Dec. 16.
Despite leading 17-15 after junior captain Liam MacArthur's match, the loss of the following matches resulted in the team's overall loss.
"I think a lot of our younger guys especially wrestled really well. A lot of the freshmen and sophomore wrestling up in varsity did very well," MacArthur said.
Irvine High placed fifth in CIF last year and currently stands first in league.
Junior captain Neil Naraj said he believes the fact that the team lost can be seen as there were few returning seniors and many first-time varsity athletes on the team this year.
"Our team is kind of young, and I feel like the young guys are not as confident," Naraj said. "Coach gives us a lot of tips during practice, and sometimes they just go over our heads, but we should pay attention to those more and really clean up our technique."
Despite losing the match, sophomore Travis Ha said he believes the loss will help improve the team's performance before upcoming matches against Northwood High today and Beckman High on Jan. 20 in the large gym.
The team is receiving help from volunteer coach Bob Hernandez and alumnus assistant coach Scott Ha to help the team on positions they need to improve on.
"With the loss, it helped motivate us for the duels coming up; we were able to reflect back on what we need to work on," Ha said. "The [match against Irvine High] was a tough loss, but it [will] really help us in the long run."
However, improvement was evident in the match as the team still won three matches, in comparison to how it lost all matches last year.
"Wrestling is a tough sport, and we got three and a half weeks left to finish up strong, and doing well in league finals is our main goal," coach Cliff Nelson said.