Four students compete for artist of the year

Among the nominees is senior Sophie Huisken, who began earnestly shaping her path freshman year. Huisken's involvement in vocal music confirmed her passion for singing.
"The performing opportunities I've had through the vocal department have shaped me into the artist I am now," Huisken said.
Her special love for singing is rooted in musical theater. Motivated and inspired after observing musicals, Huisken even decided to continue pursuing this career in college.
"I hope to get as much performing experience as possible, and then I want to teach," Huisken said. "I want to teach after gaining experience, because the teachers I feel have influenced me the most all had performing experience."
Just like Husiken, senior and nominee Chris Kagoo is passionate about singing.
"Singing has always been a passion of mine, and I love the feeling of performing," Kagoo said.
As a section leader of Entertainers and president of Chamber Singers, Kagoo continuously develops his skills and passions through various activities for vocal music department, such as performing in the musical, "42nd Street."
"Chris is a leader both in encouraging the people to practice more to improve the choir's sound as well as when he actually sings," freshman and Chamber Singers section leader Mary Kim said. " He is also a team player who is first to show up and last to leave."
Another dedicated student is senior Amy Park, who specializes in painting. Park started to perceive everything from a different perspective after developing her interests in art with classes on campus. Park depended on creating her art pieces when she was having hard time after initially immigrating to America.
"Art was the only way for me to relieve stress I got from adapting to a new environment in America," Park said.
The final nominee is senior Kelly Lin, who has been playing piano since kindergarten. Lin has been involved with music, especially music compositions. Her firm foundation of music allowed her to explore other instruments such as soprano saxophone and alto clarinet. Art encouraged her to create her own arrangements and original compositions.
Her genuine goal of pursuing her musical talents is to make people who are listening feel as excited. Lin expressed that she thinks it is rewarding to be able to communicate with audiences .
"I really love music, whether it's being in marching band or jazz band or just playing some music for fun on the piano when I have time," Lin said. "Music is definitely a huge part of my life, and I have a lot of fun doing it."
Each of the nominees are talented in their own respects and stand a chance at winning artist of the year.
About the Contributor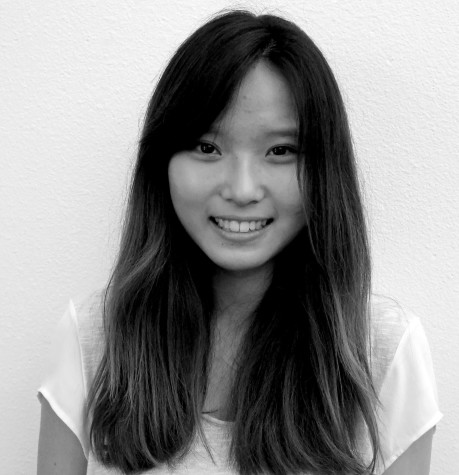 Angela Yang, News Editor
Hi everyone! I am Angela, your bubbly 2016-2017 News Editor. It has been two years since I dedicated myself to the Golden Arrow as a staff member. I feel...