Student Empowerment with Kosai
Dull conference room. Superintendent and officials stare with their blank eyes.
Most students would probably get intimidated at the pressure they receive from formal meetings with adults, but not senior Samantha Kosai. Kosai strives to improve campus and student empowerment as one of the student leaders of the Irvine Unified School District.
Kosai has been involved in leadership activities such as ASB, school site council, leadership team meetings and the school board representative program.
"She's one of the kindest students I've ever met. Always has a smile on her face and compliments others, just makes other people's day brighter too by just spreading her joy everywhere. I think that's a great thing about her," ASB adviser Lauren Prudhomme said.
During bi-monthly district meetings, Kosai talks as a student representative with educators and superintendent about problems schools are facing
Along with representatives from other IUSD high schools, she shares reports and accomplishments about Woodbridge.
"I was so honored to get this position, because I was basically representing Woodbridge students," Kosai said. "Bringing back and sharing all of our accomplishments, I brag about Woodbridge a little bit, actually a lot. Showcasing our accomplishments and just like being really proud of everything that we're doing and all the different students in our groups is something that I really loved."
During the district meeting, discussions vary in topics from censorship to Fine Arts day.
District boards also pass bills and have time for representatives to share student opinions.
Kosai's position as a school board representative gives her a chance to voice opinions from students and is a way to express student empowerment to the education system.
"People working at the district office don't really get to hear student opinions, even though they're the ones making decisions that greatly impact our future," Kosai said. "So, right now we're in the works of trying to organize a committee of different student leaders. We'll meet and discuss different issues that we're facing and how we can solve them with student perspective."
Kosai retrieves information from these meetings to campus and shares them in leadership team meetings, where she meets with department chairs to discuss school issues. Due to the district's recent interest in students' mental health, the counseling center decided to bring wellness counselors to campus, thanks to Kosai's participation on the school board.
"I think Samantha shows an extraordinary amount of passion and drive as a leader," ASB president Colette Cosyn said. "Being a general ASB member as well as a school board representative is a very, very large time investment, yet I see Samantha managing her schedule so well and partaking in all her duties so wholeheartedly. She sets a great example for anybody to lead their lives with conviction, and I really look up to her."  
About the Contributor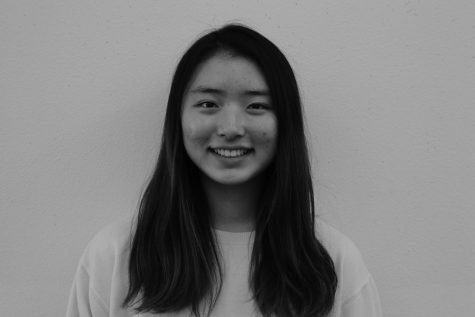 Bella An, In-Depth Editor
Hey Warriors, I'm your In-Depth editor for the 2017-2018 school year. I am honored to be part of our first year of transitioning from a newspaper to...