Horse whisperer on campus: Sevana Adourian
Sunlight glinting off her elegant uniform, the rider maintains a poised stance on the glossy back of her horse, bridging the gap between man and stallion. Sevana Adourian, junior, says her passion stems from her first horseback riding class at a Massachusetts stable.
"When she started, she was a tiny 6-year-old," said Anna Grigorian, mother of Adourian. "She has been riding for 10 years, and now she is an accomplished rider having worked in both Western and English style."
After six years of Western riding, a style that emphasizes comfort and stability, Adourian switched to English riding to further expand her technical abilities. Through English riding, which features more jumping and formal display, Adourian developed her posture and control over the rein.
"Jumping gives me the biggest adrenaline rush; although it is sometimes frightening, the payoff is super worth it," Adourian said. "Barrel racing is also tons of fun, because the feeling of going lightening fast to beat the clock is super exhilarating."
Currently, Adourian practices bi-weekly, but during the summer, her lessons occur three or four times weekly. Her practices last about an hour and involve cantering, a slow version of a gallop, along with lead changes. Warming up properly, as with any sport, is essential, but even more crucial is maintaining a focus on the horse's actions and mood.
"One time, my horse got frightened by the wind, and I almost fell off," Adourian said. "When riding, you need to put all of your trust and faith into this huge animal, and if not, the horse can sense it. If you're not on your A game, unlike other sports, there is an animal counting on you, and the only way to communicate with your horse is through trust. I've fallen off and been thrashed around on my horse countless times, which isn't too fun."
Adourian has also placed second in the walk, trot and canter category along with a first place award in obstacle for Worcester Riders Association, a show held at her local stable.
"She really loves horses and takes a relaxed stance when it comes to handling them," longtime friend and University of California, Irvine junior Jennifer Delgato said. "She uses loose reins and has a gentle hand with everything she does."
Adourian's commitment to horseback riding adheres to the definition of passion. She continues to tutor beginner-level classes, attend riding summer camps and visit horse shows. During the summer, Adourian plans to participate in English riding shows.  In the future, Adourian aspires to attend University of California, Davis while working part-time at the expansive UC Davis Equestrian Center.
"When you are that little, you don't think about the dangers of literally riding on an animal and putting all your trust in them, but you just think about having fun," Adourian said. "Because of that, I was able to keep going after 10 years solely because at the end of the day, I love the feeling of being on a horse, without a care in the world. It's the most liberating feeling."
About the Contributor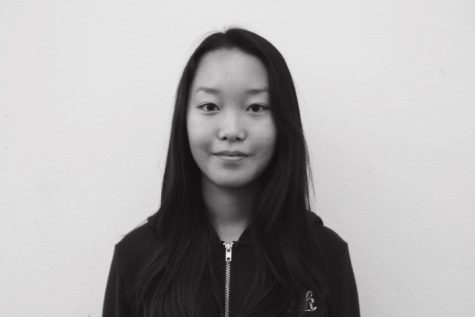 Lindsay Chong, Co Editor-In-Chief
Hi everyone! The Golden Arrow has been a huge part of my life for the last three years here at Woodbridge: it's been my community and place of inspiration....