Boys volleyball smashes a win against Mission Viejo High
Boys volleyball (2-2-0) played Mission Viejo High on March 8, serving up a win 3-0 against the Diablos. The next game will be on March 17 at the OC Championships, it is undetermined whom the team will play.  
The first two sets were close with the team leading 25-23 and 25-20. In the third and final set, the home team gained a lead that gave them a considerable advantage.
The first set was a nail-biter, with each team teeter-tottering to gain the advantage on the scoreboard. Neither team struggled to field passes, but rather had difficulty getting serves and hits within the court.
"We're relatively inexperienced, so there's a lot of ground to make up," math teacher and head coach Alan Ho said. "But I want the guys to always fight for every point and be smart about the plays they're making."
Both teams seemed relatively fresh to the game, as Mission Viejo High was ultimately faulted twice for being out of rotation. These points proved crucial to the end result.
"Well, the first two sets were pretty close, but ultimately we won because we executed better," junior and opposite Russell Lee said. "[Senior libero] Nick [Toffoli] had great passes, and we converted on the free balls, which gave us a huge advantage."
Toffoli carried defense in the back row, picking up the majority of passes. Although the outside hitters were aggressive in the front row, they proved to be reluctant passers.
As the game progressed, the team worked out most of its issues. The serving improved drastically, the majority of hits were inside the lines and back row defense also became more aggressive on fielding hits.
"The team was able to communicate a lot better on the court," Meyers said.
While Mission Viejo High had better serving at the start, it was never able to improve its hits, giving Warriors the advantage.
The team had effective communication with team members visibly supportive and respectful of one another on and off the court. For now, it looks as if boys volleyball will be entering league with camaraderie on its side.
About the Contributor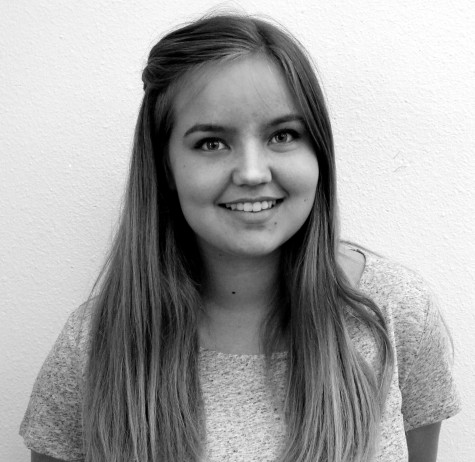 Alexa Wallace, A&E Editor
Hello reader,

Thanks for taking the time to check out our website! My name is Alexa (as you could probably already deduce) and I am the Managing Editor....