Golden Arrow hits the bullseyes at OCJEA
Golden Arrow staff won first place in Online Best Of Show for the newspaper's website and second place in Best Of Show for the print newspaper at the Orange County Journalism Education Association (OCJEA) Write-Offs on Feb. 27 at Fullerton College. Seven staff members also won individual awards.
OCJEA holds this annual competition where student reporters, photojournalists and cartoonists across Orange County compete in several categories. These categories, such as editorial cartoon, sports, layout and news, allow young journalists to exhibit their skills.
"During the writing part everyone was quiet and focused," sophomore Lindsay Chong said. "and personally I myself was tense but the people around me were ready."
Seventeen Golden Arrow journalists had the chance to exhibit their skills and talents they have developed and were awarded accordingly.
Senior and co-editors-in-chiefs, Nicholas Kumamoto and Avantika Vivek placed sixth in Editorial and first in Sports respectively. Junior and director of photography Yechan Yang and sophomore Bella An placed third in their categories of Photography and Editorial Cartoon. Junior and news editor Angela Yang and senior and front page editor Min Kim placed third and seventh in Layout. Chong won the title of "excellent" in the Novice News category. Eight students competed at the Southern California Journalism Education Association (SCJEA) Write-Offs on Saturday. Vivek placed second in Sports, Yechan Yang placed second in News Photography, sophomore Ashley Park placed second in Novice News, Angela Yang placed fifth in Layout, and junior Anamaria Sayre placed 15th in Feature Photography.
"This experience definitely helped me grow as a better editor," Yang said. "I learned so much in a bigger world of journalism through this competition."
Students attended press conferences, interacted with live speakers and completed their stories within a two-hour period. Along with these challenges, journalists are not allowed to use voice recording devices or online resources to revise their work.
"I was really nervous that I wouldn't finish on time," Chong said. "And I'm really used to typing on the computer and revising a lot, so on paper it was really hard."
Golden Arrow staff credits journalism for improvement of their skills regarding writing and preparedness in the OCJEA competition.
"I just advise anyone who is interesting in writing in general to join journalism, because it really helps you improve as both a writer and a leader," Vivek said.
About the Contributor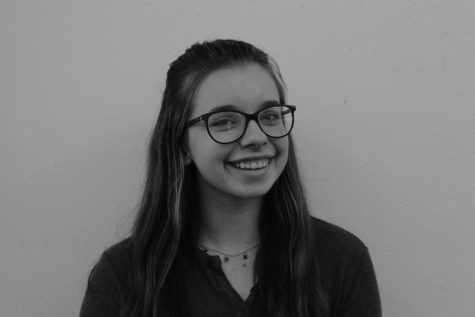 Emily Manton, Co Editor-In-Chief
Hello friends! I am one of the Editor-in-Chiefs for the Golden Arrow this year! I am so excited to lead our amazing staff in order to bring you the best...