Samantha Neely joins elite marching band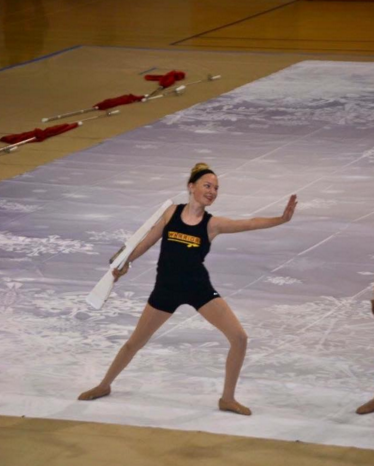 Rising from obscurity, sophomore Samantha Neely is one of just 300 high school students throughout the country to be accepted into Bands of America's National Honor Band this year.
Bands of America is under the umbrella of Music For All, a national organization that advocates for music and arts expansion in education. According to musicforall.org, this program is considered "the pinnacle of educational programming for high school instrumental music programs nationwide" with over 85,000 teens participating nationwide in events attended by over 300,000. According to Neely, her acceptance into this prestigious program was an emotional moment for both her and her mother.
"[Fine and performing arts teacher Brad] Harris's mood changed from serious to really happy. He screamed 'you made honor band,' and I was stoked," Neely said. "I hugged him and he gave me roses and a balloon that my mom had bought for me; my mom came out of his office and since she and I are such emotional people, we start crying happy tears, then the band starts playing for me. It was just amazing."
Neely joined color guard after seeing a high school showcase for her eighth grade class. Neely describes her performances upon joining the team freshman year as "terrible." Despite this, she put a great deal of time into practice and was eventually named junior varsity captain before joining the varsity squad this year.
"She made it onto saber line sophomore year, when usually only juniors get it," junior and percussionist Kat Canellos said. "She can do a lot of amazing cool tricks with her equipment, and I believe that she has improved in a record pace."
The auditioning process required three videos showcasing technique, flag choreography and dance choreography. Neely ended up having to film three sets of videos due to a faulty camera and poor audio quality. Unfortunately, the site was experiencing technical difficulties and only her two technique videos were uploaded. Neely managed to submit her choreography using a quick video from her phone. She was informed that she would receive an email, and the nervous wait began.
"Days passed, and I began to psych myself out," Neely said. "I kept telling myself that they emailed the rejects last because they wanted the acceptance letters to go out first, so those families could gather the money they needed to have by the first payment."
On the final day the organization promised to send out acceptance emails, Neely was called out of class to the band room, where she was informed that she did indeed qualify.
As part of Honor Band, Neely will perform in the Disneyland parade and march in the annual Tournament of Roses parade. She will also take part in a tour through Los Angeles County, all within a one week span from Dec. 28 through Jan. 3