Exploring California with new student mural
A cool breeze flickers through the wind as the sun shines down warm, buttery rays on the majestic Golden Gate Bridge. Fields of poppies bloom in the grass, lazily drifting back and forth. In the far distance, the peaks of California's mountain range stand tall in a majestic display of grandeur.
The art department's California mural captures the essence of life in the Golden state.
Headed by fine arts teacher Matt Takeno, the team of students working on the project includes freshman Morgan Rea, juniors Hojung Kim, Emma Steward and Saina Saifzadeh and senior Maria Bushamie. The final mural is slated for release in May on a wall in  the counseling department on the wall of the college and career center.
"We wanted it to depict a sort of pathway of life after Woodbridge," teacher and adviser Takeno said. "It's going to be a mural of mountains and things that are symbolic of California like the coastline, redwoods, poppy trees, the Golden Gate Bridge — that kind of stuff… It's sort of life taking those steps from home, away from what's familiar and seeing the beauty that's out there."
The art department had support from professional mural artist Skye Walker, who is a friend of counselor Elizabeth Taylor and has his work featured in stores such as Whole Foods.
"He came in and talked to our kids about it and really got us kickstarted and inspired," Takeno said. "It's something that we've never done on this scale before, so it's really exciting for us to do."
Currently, they are working on a rough draft sketch on the wall in the art room. The original design, drawn on paper, was projected on the wall and filled in with paint.
"The fact that I'm painting on the wall is really cool," Kim said. "It's definitely a first time experience kind of thing for me."
With plans for the final product to be started around May, the hardest part so far for the team has been starting.
"It's hard enough to get the creative process started on your own, when we have five or six other people and you're trying to all work together," Takeno said. "So just to see that, to see them working together and be productive and build off each other, I think that's the most rewarding thing."
About the Contributor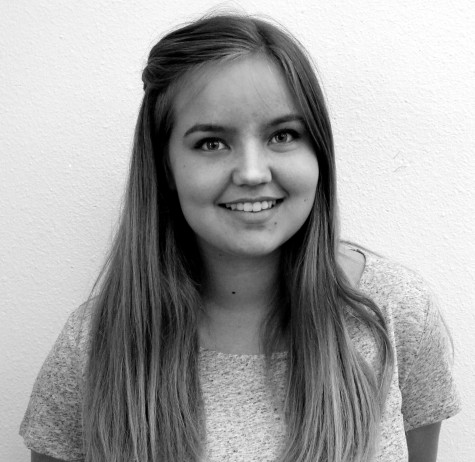 Alexa Wallace, A&E Editor
Hello reader,

Thanks for taking the time to check out our website! My name is Alexa (as you could probably already deduce) and I am the Managing Editor....