A trip down memory lane with Ramon Guzman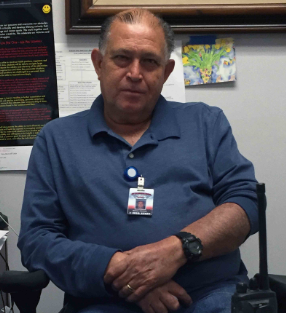 Everyone is familiar with the faces that help run the school, whether they be the principal, assistant principals or administration and counseling. But there are also the somewhat unknown, dutiful caretakers that often go underappreciated. These watchkeepers that do so much to help take care of campus are the custodians.
Having served the school with an unceasing passion, custodial supervisor Ramon Guzman happily reminisced on his 30 years of experience at Woodbridge.
"I have enjoyed my and that's why I haven't moved or anything. I love Woodbridge," Guzman said. "It's challenging, but overall it's a nice job. It's a decent job, an honest job. It puts food on the table for my family, and that's what I love about it."
Guzman described the memories that he shared with the Woodbridge staff and the joy of seeing students grow up.
"[We] just get to know kids who come by. Few years later, they walk by and they're all grown up. Watch them grow, that's pretty fun," Guzman said.
Among all of his memorable moments, there are still many aspects of the staff that go unnoticed by most people on campus.
"Believe it or not, [most people] don't know that we have a night crew," Guzman said. "People don't realize that the night crew goes around and cleans after [students] are gone."
With three people running morning shifts and five people running night ones, Guzman stressed how he would appreciate if students took the initiative to keep their school clean.
"I see a bunch of trash on the table, when there's a trash can at the end of the table," Guzman said. "I just wish the students would have pride in their school to pick up after themselves."