Rat-a-tat-tat for the new drum majors
After three years of grass-covered shoes and waking up to the sound of their alarms before sunrise, the skills of junior Jody Lin and seniors Tyler Ravelli, Karen Smith and Noah Pacis has brought them to the front lines where hundreds of eyes gaze upon them as they lead.
"The drum majors are the student leadership of the band,"performing arts teacher Joslynne Blasdel said. "They conduct, lead, they help make sure that students are learning the music and marching for the show, they motivate students to give 100 percent into their preparation and performance."
With exceedingly high expectations for a position with pride and responsibility, the process of selecting new drum majors is quite rigorous with limited positions and many students auditioning.
In order to obtain a position, a candidate goes through a two-part process: conducting and an interview. For the conducting portion, the candidate is assigned a section of a piece that their respective ensemble class is learning and is tasked with conducting and providing advice for improvement to the class as both band directors evaluate them. Secondly, the color guard and dance coaches join the band directors to evaluate each individual's leadership potential and qualifications in an interview.
Despite this intimidating fact, Blasdel emphasizes the simplicity of the requirements for earning the title and its importance to both the school and band.
"We are looking for someone that has a positive attitude with good ideas to help motivate students," Blasdel said. "It is important that they communicate well with students and staff and will represent Woodbridge High School in a positive way."
In spite of the hard work that comes with being a drum major, Ravelli points positively towards the benefits and reasoning for auditioning.
"This year so far has been remarkably stressful and exhausting yet  I've had the most fun I have ever had in my life as I am surrounded by friends and I get to lead my friends and peers into excellence," Ravelli said. "I became a drum major because the position is just an opportunity for me to help more people and create a positive impact on others that might otherwise not be possible."
While drum majors are both leaders and helpers during practices, their true roles can be seen as Pacis, Ravelli and Smith conduct the band in the stands. Uniquely, Lin holds the position of the field conductor as she leads the band during halftime shows.
"It's exciting to finally be able to watch and guide the show rather than be in it, but there's a lot that I've come to realize in the past couple weeks," Lin said. "When suddenly two-hundred people are watching you, it's slightly daunting."
The significance of gaining this position could be seen as Pacis was overwhelmed with disbelief  as he heard his own name announced.
"When I first heard my name being announced as one of the drum majors, I genuinely did not believe what was happening; it took quite a while or the idea to sink in," Pacis said. "Holding this position certainly means a lot to me, especially because it is a way for me to further pursue my passion for the performing arts."
Looking to the future with gloves off, Smith contributes her growth as a leader to her experience as both a performer on the field and a leader in the stands.
"It has given me a lot more confidence in my abilities already and I am learning a lot about what makes a good leader, which I think leads to being a decent person in general," Smith said. " It has also taught me a lot about working together with people which is a huge pillar of the marching band philosophy."
With uniforms on, buckles tightened and instruments ready, while the drum majors unanimously agree upon the intensity of expectations, they are pumped to the beat of learning, growing and leading others on and off the field.
"I guess I would say–BAND TEN HUT!  …..please use the shoe-scrapers on your way out….dismissed!" Lin said.
About the Contributor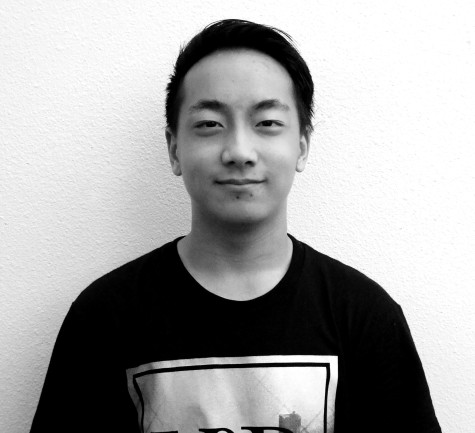 Vincent Hsueh, Sports Editor
Hey! My name is Vincent Hsueh and I've been a part of the Golden Arrow for almost three years. Oh, and I'm also a senior this year (time sure does...