National pride has not died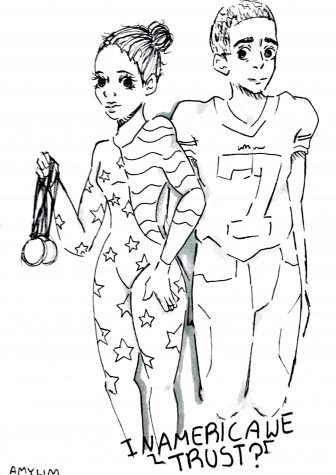 2016 has been a year of patriotic controversy for the world of athletics. American gymnast Gabby Douglas and San Francisco 49ers quarterback Colin Kaepernick have been attacked on social media for being "disrespectful" and "unpatriotic", which begs the question: is patriotism in the U.S. in decline?  The truth is, it isn't. Patriotism is an abstract and personal quality that can be shown in a variety of ways. There is confusion as to what patriotism truly means, and this has lead some individuals  to force their interpretations onto others.
Take the hot topic of Kaepernick. He stated that the reason he sits down for the national anthem is because he does not want to "stand up to show pride in a flag for a country that oppresses black people and people of color." (Courtesy of CNN). Kaepernick hates oppression, and to him that is what the flag represents. Kaepernick is using his First Amendment right to stand up against what he feels is an injustice in police shootings. The fact that he proudly recognizes and uses his rights shows how much he appreciates the freedoms granted to him in America and is actually quite patriotic.
In response to the controversy and media attention surrounding Kaepernick, Team USA hockey coach, John Tortella, issued a statement saying that he will "bench" any player who refuses to stand for the national anthem. Tortella explains that he believes Kaepernick's action's are incredibly disrespectful toward the armed forces, and that involving the national symbols they defend in a protest "is probably the most disrespectful thing you can do as a U.S. citizen." The irony is that veterans have come out in droves to support Kaepernick. The hashtag #veteransforkaepernick began trending on social with military officials and veterans posting about how they served to protect the actual freedom of speech and not just the symbols that represent it.  
Then, there is Gabby Douglas, who came under fire for not putting her hand of her heart and showing emotion during her gold medal ceremony for the USA women's gymnastics. However, Douglas never intended to offend anyone or even spark the flames of protest like Kaepernick. Instead, Douglas simply apologized on Twitter, reminding, "I always stand at attention out of respect for our country whenever the national anthem is played." This minor controversy shouldn't give her the label of being "unpatriotic" because mistakes are sometimes made, even on a stage like a gold medal ceremony at the Olympics. Even if her actions had been intentional, the very fact that she has chosen to represent her country at the highest possible international competition shows the pride she has in her country. This is nothing more than the country once again clashing on what is considered patriotism, hardly a sign of a decline.
Furthermore, Douglas isn't required by law to put her hand over her heart. Sure, it can appear to be as if she is protesting, uncaring, or being lazy about the U.S., but even if she was, so what? Douglas, Kaepernick, and every other American all live under the same federal laws in this country, where we are fortunate enough to have the freedom to decide whether we participate in these events, or not because those are the ideas of freedom that we have in this country. There's a reason people are not required to stand for the national anthem and put their hand on their heart because otherwise, the whole point of freedom is diminished.