Red, white, blue… and gold: patriotic touchdown for the warriors
Football competes against the Argonauts in the first themed game of the year on Sept. 10
Patriotic football fans donned striking red, gold, white and blue colors at the first ever themed game against Garden Grove High to cheer Woodbridge High to an unexpected victory in the "Home of the Brave" on Sept. 10. Students sported American themed face paint and wore patriotic clothing, while passionately waving oversized American flags. Red, white, and blue decorations decked out the stadium and set the scene for the American themed football game. The cheers and chants drowned out all uneasiness about the difficult game for the Warriors and raised hopes for a victorious win. Patriotic colors shined bright under the vibrant Friday night lights as Woodbridge's first American themed football game began to take off.
In the first quarter, the Warriors took a quick lead over Garden Grove High when senior Connor McBride scored a touchdown. The team then stopped Garden Grove's rush as senior McBride turned the play around for another touchdown for the Warriors. The team finished the first quarter with a lead of 14-0, showcasing strong defense. During the second quarter, the competition became more intense. Garden Grove High made a touchdown but missed the kick. Following the touchdown, senior Nate LeDoux made a long catch for a touchdown for the Warriors. Although the kick was missed, the second quarter ended with a score of 20-6.
McBride scored his third touchdown of the night in the third quarter, with an extra point conversion to follow, ending the quarter with the score 27-6. During the fourth quarter, neither team scored, leaving the final score 27-6.
Woodbridge High was considered the underdog in the game, but the team persevered to win.
"Garden Grove was rated number three in a CIF division higher than our placement so we beat a team who on paper should have beaten us," said coach Rick Gibson.
"We are finally coming together as a team and playing as brothers," said senior Connor McBride.
The spirited game was inspiring to the team and pushed them to fight for their patriotic school, despite their difficult opposition.
"For me, looking back and seeing all the pride in our crowd gives [me] and uncontrollable rush," said sophomore Joseph Ryan Jones.
The patriotic themed football game added to the victorious win for the Warriors and allowed them to play not only for their school, but for their country as well.
About the Contributor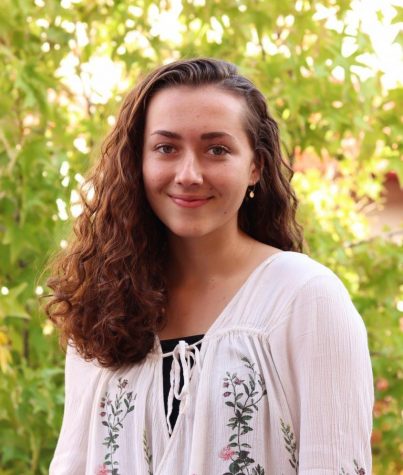 Kirra Lunow, Co-Editor-in-Chief
Welcome reader! Three years ago, I joined the Golden Arrow and entered an inviting community, opening myself up to the world of culture conglomerated within...