Upcoming Stars: Connor McBride and Mima Mirkovic
Hang on for a minute...we're trying to find some more stories you might like.
Racing past the twenty, and then to the ten, senior Connor McBride catches a long pass, weaves around the defenders and bolts into the endzone. Touchdown! McBride has shown his dedication to football for the last three years, and he wants to finish his high school career strong. "I want to make the most of my senior year," McBride said. McBride discovered his passion for football 12 years ago. "My parents got me into football when I was seven and it just clicked. I played other sports but football stuck with me," McBride said. McBride hopes to get a scholarship to a college to play football. "I've always wanted to play in college. It was my dream every since I started playing football," McBride said. McBride looks forward to his future in football and his last year as a running back.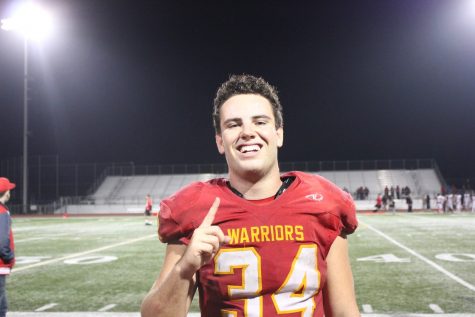 Senior Mima Mirkovic gets the set from her teammate and slams the volleyball over the net, the opposing players are unable to return the smash. Mirkovic is ready for her senior year of volleyball as an outside hitter. She has been playing volleyball for nine years now. Before playing volleyball, she tried basketball, soccer, ballet, swimming, and even karate. "It just clicked, volleyball came naturally," Mirkovic said. Mirkovic showed her volleyball talent when she and her volleyball partner placed third in the world championships in Greece. Mirkovic is determined to finish her High School Career strong. "I want our team to beat Corona Del Mar this year," Mirkovic said. Mirkovic looks forward to her future in volleyball. "Next year I'll be playing for Berkeley in Northern California and I hope I can make an impact there. Then, I'll just see where volleyball takes me."