Kelly Yoo hits the mark at national archery tournament
Senior Kelly Yoo pursues her passion for archery, placing tenth in archery nationals
With the snap of the taut string against the flying arrow, senior Kelly Yoo skillfully hits the mark of the bull's-eye and seals her spot as the top 10th archer in the nation.
Placing higher than hundreds of fellow female archers, Yoo placed 10th with an impressive score of 1100 in the 132nd U.S. National Target Championship, U.S. Open and 2016 Eastern JOAD National Championships. However, this was not her only placement in the nationals as she ranked 26th in the nation her previous year.
While only having started archery her freshman year, Yoo dreamt of holding a bow and arrow long before the beginning of her successful career in archery took off.
"After watching 'The Hunger Games,' I was really interested but [I] believed there was nowhere in Irvine to learn the actual sport, so I would daydream about it until three years later, when my family friend actually asked me if I wanted to go try it out and ever since then I fell in love with with the sport," Yoo said.
Enrolling in HSS Sports Academy, she began archery under the instruction of South Korean Olympic champion and archer Hyang Soon Seo.
"[My main teaching method for Kelly is] teaching her to control herself and her mind," Seo said. "She enjoys practicing and participating in the competition and [she] also has confidence."
Yoo proves that phrase "hard work pays off" is true as she diligently goes to practice three to five days a week. A three hour shooting practice and a physical training follow-up consisting of five-mile runs, sit-ups, burpees is the norm
Yoo credits her success in archery to her coach, fellow archers, and most importantly, her mother, who supports her in every way and strive for her goals everyday. Reaching her goals was not a smooth ride for her as she faced many obstacles that seemed to hinder for love for archery.
"Two years ago, she injured her shoulder, which is very problematic to archers, and she went through some tough times, Yoo's mother Heesun Choi said. "She was having trouble just pulling the bow itself… there were many days when she just didn't want to continue archery,"
Despite all the bumps along the path to success, Yoo pulled through all the obstacles and strove for her goals. Her teammates and coach believe this is due to her exceptional personality and attitude.
"She makes coaches and peers happy, and brings positive energy," Seo said. "[She is] always keep[s] [a] positive mindset."
While ranking tenth in the nation is exceptional for any archer, Yoo does not believe this is the end of her path in archery. She plans on continuing archery throughout her life as a leisurely activity.
"Ranking in the nationals makes me want to try harder… to achieve a better ranking each time," Yoo said.
About the Contributor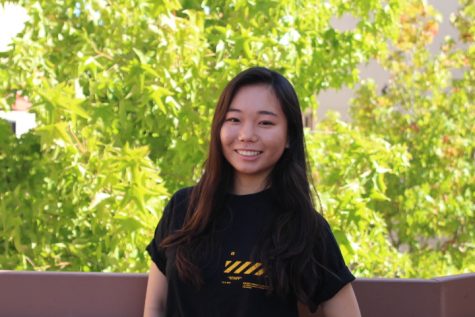 Lauren Chong, Co-Editor-in-Chief
Salve! Welcome to the Golden Arrow website! As one of the editors-in-chief of the Golden Arrow, my role is to ensure the entire production of the Golden...