Mural: moving through California
Visitors to the counseling center can now immerse themselves in all the glories of California.Art teacher Matthew Takeno and seniors Emma Steward and Karly Thibault lead the project.
"We wanted it to depict a sort of pathway of life after Woodbridge," teacher and adviser Takeno said. "It's going to be a mural of mountains and things that are symbolic of California like the coastline, redwoods, poppy trees, the Golden Gate Bridge — that kind of stuff… It's sort of life taking those steps from home, away from what's familiar and seeing the beauty that's out there."
To help plan the project, counselor Elizabeth Taylor's friend and professional artist Syke Walker spoke to the students.
"He came in and talked to our kids about it and really got us kickstarted and inspired," Takeno said. "It's something that we've never done on this scale before, so it's really exciting for us to do."
The process was a first for all the leaders on the project.
"I loved seeing it start as everyone bringing their own ideas and styles to the table and us working together to bring all of our ideas and styles into one," Thibault said. "Also, learning from each other and adapting to everyone's styles while we put it up on the wall and seeing it all come together."
Steward and her classmates focused on trying to include all the opportunities for students after they graduate.
"In California, we are lucky to have lots of different influences on us and I think that stays with us whether we decide to leave or stay in California so that's what we decided to draw," Steward said.
After weeks of hard work and months of planning, the artists completed the project and left their permanent mark on their soon-to-be alma mater.
"And I think it is incredible that Woodbridge gave us the opportunity to make something that is now a permanent part of the school," Steward said. "We are very lucky to have the administration that is supportive in the creative process and wanted to give us the feel of what it is like to produce a commissioned project for someone, before we go into the workforce."
About the Contributor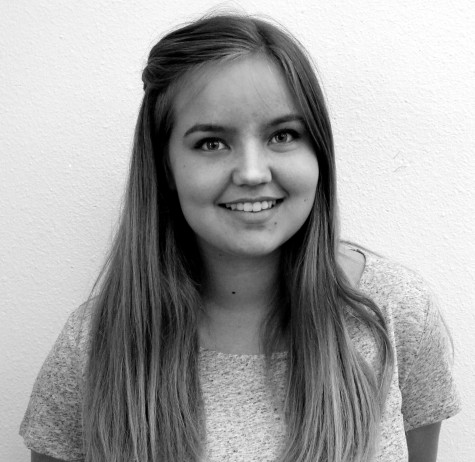 Alexa Wallace, A&E Editor
Hello reader,

Thanks for taking the time to check out our website! My name is Alexa (as you could probably already deduce) and I am the Managing Editor....