February Staff Editorial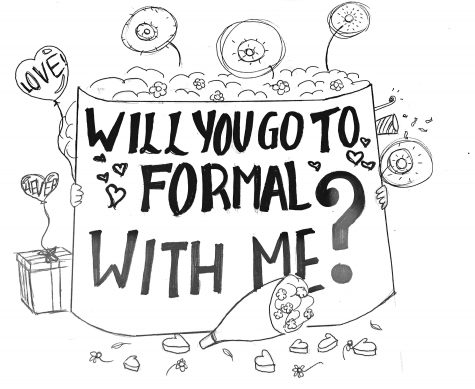 For the past month, conversations about Winter Formal have dominated the hallways, with students struggling to follow the 'traditional' formal experience. The "acceptable" tradition involves the boy asking the girl in an extravagant manner, offering flowers and paying for the tickets. While he must ensure that the girl is available, he must also surprise the girl. Such traditions dominate and restrict the formal experience.
The long-lasting tradition of going to Knott's Berry Farm may have been a thrill the first time, but many students, especially upperclassmen, have opted out of attending formal. Some students choose not to go to formal because of the location, while others dislike the idea of riding roller coasters in newly-bought, expensive outfits.
One of the most popular and exciting traditions is the process of asking someone to formal. Every year, January and February become the most anticipated months for students, as they eagerly wait to ask or be asked to formal. Although attending with a date is not mandatory, it certainly is part of what makes the dance exciting. However, in previous years,  formal proposals have grown to be even more extravagant, diverting away from creating a simple poster with a cheesy pick-up line. Now, a bouquet of flowers is a must as well as candy. Social media also has a significant role in making formal askings unique. Accounts dedicated to showing pairs who have gone to formal indicate how intensely this high school event has developed into a must-follow tradition.
While guys take on the burden of asking someone to formal in an original and unique way, girls face the dilemma of finding an outfit that is within their budget. Having formal at Knott's also presents the problem of wearing the right shoes and worrying about if the outfit will withstand the hours of adventure on the rides. Wearing such proper attire may ruin the carefree and relaxed atmosphere that defines formal.
Hosting formal at Knott's, using a handmade sign and gifting flowers to ask that special someone are only a few of the many traditions that seem to take away from the formal experience. When the focus shifts to superficial aspects of formal, it becomes a rat race: a never-ending comparison about who is wearing the right outfit or going with the right partner. Formal should not be a competition nor a compulsive, mindless checklist of menial activities done for the purpose of posting photos on social media. The obsession over fulfilling one's expectations of the "perfect" formal evening takes away from the true experience — spending time with friends and enjoying a "night to be remembered."
Granted, these traditions connect students of different grades; the feelings of ceremony and belonging that are associated with these traditions transcend generations. However, these traditions also encourage conformity. Going to Knott's every year does create a sense of nostalgia and new memories with friends.
Formal is a great experience, but one must carefully examine their attitude to prevent the mindlessness and stress associated with blindly following traditions.