Bassist Oh faces obstacles, but still chases his dreams
Often times many musicians face financial pressure. From buying the instrument to private lessons, it is dropping numbers in savings account is inevitable. However, sophomore and bassist Alphonse Oh earned his seat in the Southern California School Band and Orchestra Association's  All-Southern Orchestra (SCSBOA) with lessons from online tutorial.
Moving from Los Angeles to Irvine last year, Oh has brought a spark of interest for the bass.
"I first saw a bass player and really was aware of the existence of the instrument in middle school," Oh said. "It's an instrument taller, bigger and louder than you are. I just thought being able to handle that force was so cool."
Although he had passion, his music career began with obstacles with lack of resources.
"It was really tough for the first four months," Oh said. "I didn't have the proper materials… like a bow and an actual bass. But Woodbridge had all the materials that I needed and the resources and the teachers."
However, Oh faced more difficulties as economic pressures tried to tackle him down.
"At the time, I couldn't afford to have bass lessons," Oh said. "So, I just went on YouTube and [looked] up 'How to' videos on bass. There were definitely challenges learning bass through YouTube. I couldn't ask anyone [when] I [had] personal questions on a very specific situation."
Trying to put less pressure on the family, Oh sought support from people around him.
"My mother really [tried] to support me and the music director, whose name is Ms. Blasdel, really helped me [develop] my career as a musician," Oh said. "[Ms. Blasdel] showed me the orchestras outside of the school, such as All-Southern,… [and] also got me into jazz bass."
As his bass skills improved through practices and support, Oh decided to teach bass in order to enhance his journey as a musician.
"I come from a financially not-to-good background, and I wanted to do something about that because I want to [join music] programs and afford [necessary tools] for school and extracurricular [activities]," Oh said. "I need a bow case. I am saving up for that right now."
Adding to Oh, "He's one of the most engaged students in class," philharmonic orchestra member and senior Noah Pacis said. "His eagerness to do the best that he can is evident in how he interacts with the teacher and those around him."
Still, achieving his position as a private instructor was not easy.
"First thing to note, I'm a sophomore, and there are so many professional musicians out there," Oh said. "So, I had to prove to my students' parents and the students themselves that I was capable. Because I only played [the bass] for about nine months at the time, showing my resume… wouldn't be helpful. What I did instead [was] I prepared music to present to them, and if they had a specific style of bass they wanted to learn, I [prepared] something for that as well."
By overcoming obstacles and practicing rigorously, Oh was given the opportunity to audition for the All-Southern Orchestra.
"I thought that I couldn't [get] into All-Southern listening to all the previous musicians that… played in the orchestra [before]," Oh said. "If you think about it, my financial situations in the past did not fare me well. But, after getting in and finding out that I got the second chair,… I was so shocked, and I've realized that you should never assume the potential you can have as a musician based on your current situation and background."
However, he began to feel the pressure having the title of second chair bassist.
"While playing with [other bassists] and looking at the quality of the basses they had and the professionalism that they showed, it was hard to get over the fact that I was the second chair, and I had to perform just as well if not better than [other] bass players to support the orchestra," Oh said. "[To overcome the pressure], I listened to the music that we created as an orchestra; the separate wind section and strings and percussion all [came] together to make beautiful music."
Performing next to people with more experiences encouraged Oh to pursue more experiences with the bass.
"After playing with such talented musicians, I wanted to pursue even greater heights in my musical career such as all nationals," Oh said. "Performing in the orchestra persuaded myself that you should always take risks and never limit your potential."
Showing his achievements and passion, Oh is a source of inspiration and excitement to others around him.
"I think the Alphonse brings out a more competitive side to other people," senior and Oh's classmate Guillermo Mieryteran said. "People see his success as an inspiration, and when they see what he has accomplished I want to partake in that feeling."
Adding to Mieryteran, "I believe the way he maintains such a positive attitude about rehearsals has this effect where all of that energy unconsciously slips into the minds of those around him to lighten their moods and thus make them more excited to rehearse," Pacis said.
Oh is planning to continue his career as bassist even after high school graduation.
"I was going to continue teaching the bass with private lessons and play in gigs that I find from time to time," Oh said. "I am slightly considering double major. Get it? 'Double bass' major."
About the Contributor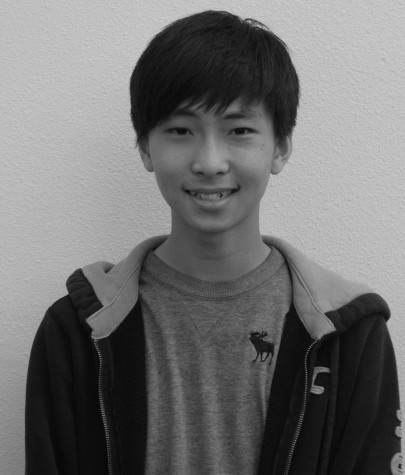 Yechan Yang, Director of Photography, Creative Director and Back Page Editor
Hello! My name is Yechan (Ben) Yang, and I am the Creative Director and the Back Page editor of year 2016-2017. As I joined journalism, I was given multiple...