Staying JoshStrong: finding strength in sorrow
To sophomore Claire Wong, her younger brother Joshua Wong was a source of joy which she thought would never be taken away from her.
Even at the tender age of 11, many have considered Joshua Wong to have been a Renaissance Man, excelling not only in academics, but also on his All-Star baseball team. Sadly, a rare pediatric brain tumor known as Diffuse Intrinsic Pontine Glioma (DIPG) took Josh's life on Sept. 25, 2016, leaving behind his mother Queenie Wong, father Jimmy Wong, and sisters Emma Wong, Olivia Wong and Claire Wong.
It all started after an MRI in January, which revealed that there was a golf ball-sized tumor, diagnosed as DIPG, in his brain stem. DIPG has a zero percent survival rate and an average survival time of nine months from diagnosis, according to the Defeat DIPG Foundation.
Josh's surgical biopsy led to a serious brain injury, resulting in 80 days spent in the hospital until he was stable enough to return home, though he then needed round-the-clock care and was unable to perform basic functions, move or communicate.
"Josh's passing was never easy and it still is not; it will always be hard," said Claire Wong. "Losing him was losing this joy in my life that could never be replaced."
The family says that they have grown from this tragic experience.
"This experience gave us a deeper appreciation of all our lives on the earth have to offer each other. We learned to grow on a deeper dependence on God for all things, to be fulfilled in this life with service to others. We no longer worry about the little things or really worry about much at all. Our time here on this earth is fragile and short, make the most of it," said Queenie Wong.
Though the family is still in much pain, they have been able to help those in similar circumstances by partnering with cancer research groups such as MaxLove, the McKenna Claire Foundation and the Monje Lab at Stanford School of Medicine. Specifically, Claire Wong has been heavily involved with her church community at Mariners, which she has received much support from.
"Experiencing the love and support I have received from so many, giving back to the community is a way I can personally express my gratitude for the love I have received and support my community," said Claire Wong.
Claire Wong has learned many valuable lessons throughout the loss of her brother that have taught her the value of service.
"Time, I have learned, is much more valuable than money," said Claire Wong. "Showing you care for the organization or even being there with a friend who is going through a loss, an illness, or a change in their life will give them a bit of hope and joy which could change their day. I know even the tiniest acts of kindness gave me so much joy."
The family is deeply grateful for the support they received from the Woodbridge community.
"My friends at Woodbridge have been there all through this journey to be by my side at both the joyful times but also the difficult times. There have also been so many staff and teachers who are supporting me and ones I can talk to at any time during the school day," said Claire Wong.
Additionally, the varsity baseball team has supported the family by giving them a baseball jersey with the number 28 on the back, as that had been Josh's number, and a pair of team cleats. Josh had always dreamed of being on the team one day.
"Before each game, we all huddle up and shout 'For Josh' before we take our positions on the field. It is a reminder that we are playing for more than ourselves," said senior John Schultz.
Even though the team was never able to meet Josh in person, the team plans to continue supporting the family and raising awareness.
"We did it to give the Wong family a feeling of what the baseball program is about, because unfortunately [Josh] never got the chance to be a part of it. We also wanted [the Wongs] to know that people do care during their time of struggle and are willing to help," said junior Jackson Lyon.
The phrase "JoshStrong 28" proudly displayed on shirts, bracelets, stickers and posters was created to raise funds for Josh, but also points to the strength Josh and his family displayed throughout his illness.
"Continue to carry the JoshStrong logo around town and around school. Wear the bracelets, use the stickers. Keep his legacy alive by telling his story," said Queenie Wong. "Our hope is that his story will help another when they think they are going through the worst situation possible. That through prayer and love for one another, all things truly are possible."
About the Contributor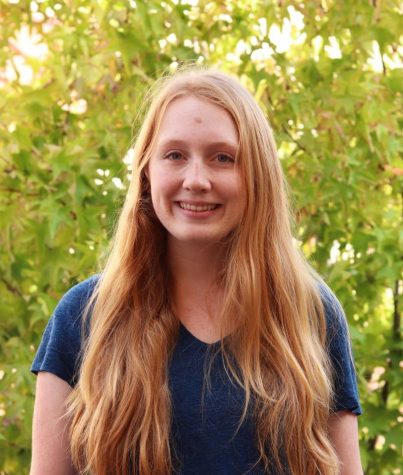 Claire Josey, Co-Editor-in-Chief
Welcome to the Golden Arrow website! I joined our publication three years ago and have enjoyed my time as a staff writer and Opinion Editor. As a student...