Job fair provides new opportunities
Job Fair promises students an introduction to local employers
Glossy business cards stamped with corporate logos were passed from employer to student as they exchanged resumes and smiles in the bustling staff lounge. Held on March 28, the first-ever job fair attracted attendees and employers from Boomers!, the Woodbridge Village Association, Atria Senior Living, McDonald's, Coffee Bean & Tea Leaf and more.
For two hours, the staff lounge was filled with pamphlets and sign-up sheets. Casual interactions between employers and prospective applicants marked the event with an opportunity for a question and answer session.
"When I walked over to the Knott's Berry Farm table, the scout was a warm and quiet person," junior Roxana Pishdadian said. "He told me that they are looking for people to be a lifeguard at Knott's Soak City during the summer and immediately the job clicked with me. I love swimming with a passion—I used to be on a swim team and swim competitively—so when he said that Knott's was looking for lifeguards, I was sold."
Arranged by ROP Coordinator Annmarie Winter and College & Career Specialist Barbara Lancaster, the job fair was designed to assist students in the job-finding process, modeled after a local job fair attended by Winter. Using work permits as a starting point, Winter proceeded to call numerous companies, many of whom accepted the invitation.
"I wanted students to have the experience of being professionals and learn what kind of opportunities employers offer in terms of job opportunity and growth," Winter said.
The job fair provided a simplified first look into the world of job application and interviews. Students learned to create resumes and partake in interviews. According to Lancaster, "the students that got the best reception were the ones that were prepared with the eye contact, [who were] holding out their hand and resume."
"I learned that your first impression truly matters," Pishdadian said. "As I went around from table to table, talking to the employers, they all said that they want someone to always be smiling, having a good time…someone who compliments their team."
About the Writer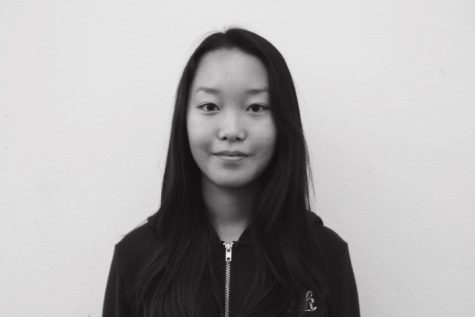 Lindsay Chong, Co Editor-In-Chief
Hi everyone! The Golden Arrow has been a huge part of my life for the last three years here at Woodbridge: it's been my community and place of inspiration....