"Día de los Muertos" brought to life
The Entertainment Corps welcomes a lively new theme for the upcoming school year
An explosion of color, flowers, and, a joyous celebration of life overshadows the gloomy presence of tombstones scattered throughout the football field. Entertainment Corps introduces a vibrant new field theme, honoring Día de los Muertos, a Mexican holiday, while simultaneously captivating the audience.
The 'Day of the Dead' holiday originated in Mexico, where Aztec and Catholic traditions blended resulting in a day meant to celebrate, rather than mourn, deceased loved ones.
"We wanted to make the show a celebration of life, just like the holiday is, a celebration of those who were with us in the past," instrumental music director Brad Harris said.
Drum major and senior Sabrina Wang originally brought forth the idea during her drum major interview.
"I chose Día de los Muertos because it's such an emotional holiday," Wang said. "There's the excitement and anticipation before the dead arrive on Earth, the joy when the living are reunited with the dead, and the bittersweetness when the dead must leave Earth again."
The performance begins with a field full of undecorated and bare tombstones, then progresses to a somber appreciative ballad for loved ones as students decorate the graves, and culminates with a joyous celebration for the deceased through an eruption of colored flags and fabric.
"The hope is that [the audience] understands the storyline and get the feeling of joyousness, family community and the importance of that," Harris said.
Students have worked tireless long hours to bring the story together and illustrate the story of the holiday.
"The students have really come together by working hard, and they're all at the same energy to be successful and perform well," Harris said.
The holiday has been misappropriated in recent years without appreciation for its rich history. However, the performance steers clear from any form of cultural appropriation.
"I think that there can be a lot of controversy that goes along with this year's theme, but overall, it's in honor of the holiday and is done with the utmost respect," junior and dance co-captain Katheryn Thayer-Pham said.
Overall, the performance delivers a strong message through musical expression and ironically encourages the audience to celebrate life through celebrating death.
"The performance shows that death isn't feared and that it's something that we are all going to face one day. Instead of dwelling and mourning our past loved ones, we celebrate their life and the joy they brought us by coming together," senior and color guard member Valerie Perez said.
About the Contributor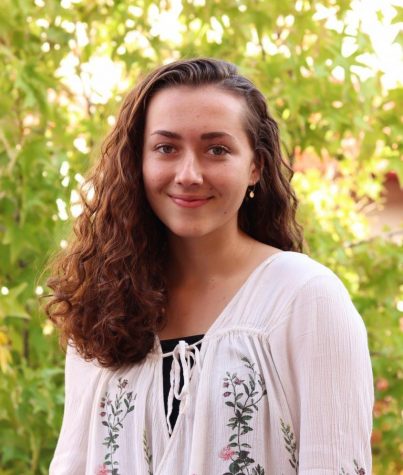 Kirra Lunow, Co-Editor-in-Chief
Welcome reader! Three years ago, I joined the Golden Arrow and entered an inviting community, opening myself up to the world of culture conglomerated within...