A Spirited First Impression
On Sept. 8, the school hosted its first pep rally of the year.
Accompanied by blaring music and flashing neon lights, students of all grade levels united in the gym to watch the first pep rally of the year, forming a sea of spirited red and gold in the stands. The rally showcased a variety of performers, introduced fall sport athletes, Yell Crew and the Associated Student Body (ASB) and left a lasting impression on the school community.
"Being the first pep rally, there's just a natural hype behind it because it's the beginning of the year and everyone is really excited," senior and pep rally commissioner Brenda Ascencio said. "There's a lot of planning on my part [including] scheduling and fitting in every performance and video into the 30 minutes we have. After that is writing a script and finding the hosts, so it is a lot of communication and going back and forth to see what's possible."
The time and effort spent on the rally were evident in the decorated walls, animated hosts and the performances themselves. Colorguard waved their colorful flags in a flowing yet synchronized manner as students entered while marching band played its tunes. Cheer showcased a routine, the entertainers sung a few songs and dance team performed hip-hop and jazz choreography. Letting these students perform allowed them to be recognized for their hard work in extracurricular activities that their peers usually do not experience.
"I think pep rally was really fun because the only places we perform are concerts, but pep rallies are something that pretty much the whole student body comes to. I know that in my first-period class my teacher commented on how he did not know that one of the soloists could sing that well," junior Megan Kosai said.  
Amid the engaging songs and routines, Warrior TV ensured that everything from sound to video ran accordingly behind the scenes. The production crew also created the promotional videos centered around the fall sport athletes, Yell Crew and ASB.
"[Warrior TV] is very helpful because they always tend to what we need and they work around what we want to present to the student body," Ascencio said.
From informing and entertaining the student body, this first pep rally allowed students to step away from the stressful focus on academics and instead to participate in school spirit.
The event left an impact, especially for one student who commented on the difference between the pep rallies she experienced in New Jersey compared to the ones here.
"Our pep rally in New Jersey was outside and it was basically just about sports. But in this one, everyone gets a say, everyone has a spotlight on them," junior Kaaviya Sasikumar said.
In addition to building excitement towards the new year, the first pep rally also featured the inherent diversity that continues to play a major role on campus.
About the Contributor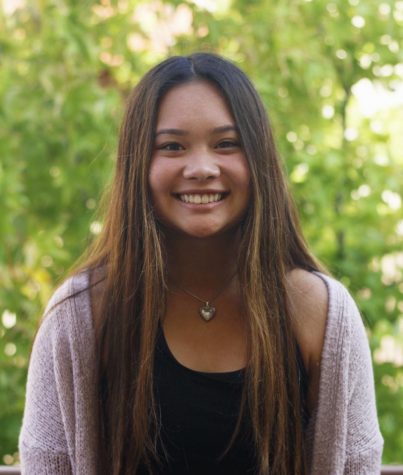 Sophia Leimer, Business Manager & Title Page Editor
Hello friends! This is my third and final year partaking in the Golden Arrow. I am super stoked and honored to continue on with my roles from last year...