Plans for a new theater "taking stage"
Measure E funds are planned to develop a newly designed theater on campus
Scheduled for its grand reveal in the 2019-2020 school year, recent plans for a contemporary new theater have been released, exciting students and staff over the remarkable opportunity.
The new theater is designed to be equipped with state-of-art facilities consisting of rooms for theater tech, cheerleading, dance, and colorguard with lockers. The theater will also add a black box, a staff workroom, an ultramodern video productions lab, balcony seating for 650 guests and a spacious structural design.
IUSD's Measure E, a proposition passed by Irvine residents in June 2016, is providing the funds for the extensive project. The act is intended to update old educational infrastructure, equipping Irvine students with an updated learning environment needed to face the modern world. As a whole, Measure E has allocated $319 million to be divided among 28 of the Irvine schools, including Woodbridge High.
"Measure E funded two separate projects at Woodbridge High School," principal Christopher Krebs said. "The first is our new performing arts center, and the second was modernizing some of the older buildings on campus which is K, J, G, and half of E," Krebs said.
After construction, students will begin to perform in the new space, creating a unique experience for teachers to enrich their students' education.
"It's hard to even imagine how many opportunities will be provided. Students will have more technical theatre experience than some colleges," drama teacher Cassandra Gaona said.
Students, likewise, are anticipating the unveiling of the new theater.
"I'm so excited to see the new theater because the advancements in technology and the large size of the theater will give us more space to be creative and [have] new opportunities," junior and choir member Megan Kosai said.
The larger theater will allow for the current 250 seats to increase up to 650 seats. With the increased number of seats in the new theater, more students and families can get involved with the performing arts department.
"We're hoping that with the increased seating, there will be increased demand for seats and more people will come, hopefully more people from the community," vocal teacher Rob Blaney said.
Some students have expressed concern that the expanded form of the theater will cut into the parking lot, resulting in an increased struggle to find parking on campus. The theater, however, will not be a disruption to the lot.
"[The theater] will limit us 20 or 30 stalls, but on any given day, we have [many] unused stalls on campus… so I don't think we'll be impacted," Krebs said.
Overall, the renovations will revolutionize student experiences and open a new chapter to an even more advanced performing arts department.
About the Contributor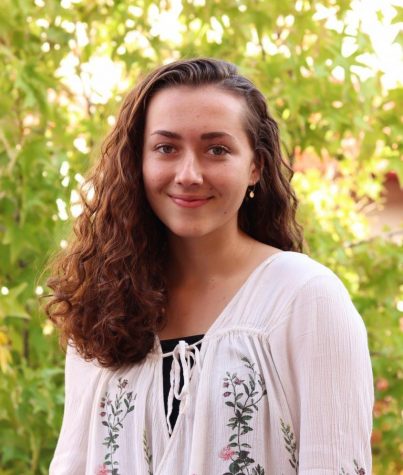 Kirra Lunow, Co-Editor-in-Chief
Welcome reader! Three years ago, I joined the Golden Arrow and entered an inviting community, opening myself up to the world of culture conglomerated within...