Students qualify as National Merit semifinalists
14 Warriors' PSAT scores ranked in the top 1 percent in the nation
Competing with around 4.3 million other seniors across the nation, seniors Elizabeth Chang, Ryan Chang, Shreya Chatterjee, Lindsay Chong, Natasha Fisher, Emily Kim, Peter Kliman, Lauren Koh, Dustin Le, Jefferson Lee, Selena Lu, Hannah Park, Janice Park and William Tong scored in the top 1 percent for the Preliminary SAT (PSAT), successfully earning the title of National Merit semifinalists.
The National Merit Scholarship Program is an academic competition that was established in 1955, recognizing and honoring students all over the United States based on their PSAT results. Last year there were nine National Merit semifinalists representing Woodbridge High.
"It is truly an honor for the students, because it is really a recognition of the amount of time and work that they put into preparing for the exam," counselor Jennifer Carrington said.
As semifinalists, the students are given the opportunity to fill out applications to potentially advance to the finalist standing. The National Merit Corporation will be announcing around 7,500 finalists on Feb. 12, and about a month later, selected students will be notified regarding possible scholarship and fiscal benefits.
The application requirements for the semifinalists include strong academic performances throughout high school as well as submission of their SAT scores, which are taken into account when selecting the finalists.  Every year, there are usually one or two students from Woodbridge that don't apply to be a finalist.
When mentioning successful tips that he had used to prepare for the PSAT, Kliman had emphasized the importance of taking numerous practice tests, which he had personally found more valuable compared to taking classes.
"Do a lot of practice tests, a lot, lot, lot of them. The more you do, the better your score will be," Kliman said.
A couple semifinalists expressed their surprise and gratitude for the honor and opportunities that came with the title of National Merit semifinalists when they were notified of their accomplishment.
"It was almost like movies when they give Oscars, the recognition shows me that I'm going in the right direction," senior Park said.
About the Contributor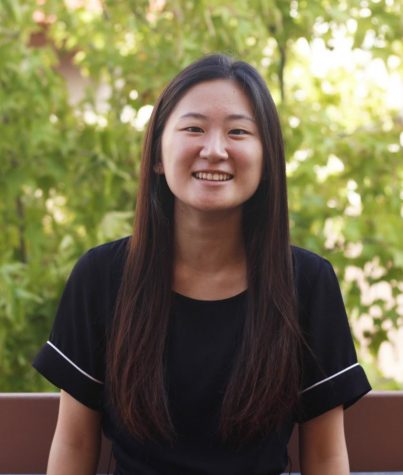 Annie Wu, Business Manager & Title Page Editor
Hello! This is my second year on the Golden Arrow and I am so excited to be a part of this amazing team of writers, editors and photographers. Every year,...