Terrific Benefits of Turnitin
Turnitin's benefits make it popular on campus and across the globe
As the teacher writes the new essay assignment on the whiteboard, your classmates begin to groan loudly when they realize what it means: dry-cut deadlines to meet on Turnitin.
Turnitin's benefits, however, are beyond adhering to tight deadlines. Of 43,000 high school students surveyed by the Josephson Institute Center of Youth Ethics, one-third of the students admitted that they had plagiarized on assignments using the Internet. Clearly, it is not rare for students to plagiarize; Turnitin is the right website for preventing such instances.
"It really installs in a lot of students that if they do plagiarize they get caught," senior Ally Oppenlander said.
Turnitin reduces plagiarizing attempts by showing users a match of information found online. Many teachers have found this feature useful for catching such actions.
"It gives the teachers an originality rating so we can see what percentage of their paper that matches a source that is linked somehow," science teacher Laura Mattair said.
"The reason I use Turnitin is to keep students honest, so with regards to their effort that they're not simply just copying," history teacher Frank Harrington said.
Turnitin is not useful for just tracking plagiarism, however. The tight deadlines can keep students on top of the game and aware of time limits. Efficient study habits developed by Turnitin could be extremely helpful in the long run whether it be in college or in a future job.
Other features on Turnitin are also helpful in enhancing the learning and grading experience. The graded page on Turnitin leaves messages explaining errors, grammatical mistakes, and the teacher's own suggestions for a particular area. Students and teachers alike could find these features helpful for schoolwork.
"I know a lot of teachers grade their essays [on Turnitin]," Oppenlander said. "You can access what their notes are which is helpful."
Because most students of Woodbridge are now accustomed to using technology in their everyday lives, Turnitin is the perfect website for our school population. As long as students are in an area with internet, they can turn in assignments anywhere and anytime. Turnitin's anti-plagiarism software, efficient grading and easy access will continue its popularity all over the world, including schools like Woodbridge.
About the Writer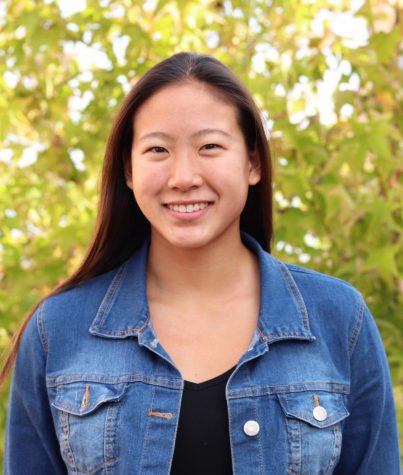 Jamie Yeh, In-Depth Editor
Hey Warriors! I've been in the Golden Arrow for three years now, and I am incredibly excited to be serving as your In-Depth Editor this year. I am also...