Conducting a marching band family
The Golden Arrow sits down with the 2017-2018 marching band drum majors
Drum majors are the heart and soul of marching band, conducting and instructing the entirety of band to perform synchronized and methodical performances. The drum majors for the 2017-2018 school year consist of seniors (left to right) Malcolm Tsay, Jody Lin, Sabrina Wang, and Margaret Lee who will lead the Entertainment Corps through their performances.
What does being drum major mean to you?
Sabrina Wang (SW): I think all of us feel really lucky to have the opportunity to have influence over a program that we dedicated the past three years of our lives to. It's a testament to the fact that as long as you care and put your heart into it, you can do whatever you set out to do.
Jody Lin (JL): You can never force anyone to do anything; you can only light the way. And watching people find their way makes me happy.
Margaret Lee (ML): When I was a freshman, I really looked up to the drum majors and learned a lot from them. I believe it is my job to provide the freshmen and band members in general with the same support.
Malcolm Tsay (MT): To me being drum major is not only a huge achievement but a also a huge privilege. It is not everyday that you get to lead 200 plus people.
What are your goals for this season?
SW: I think it is hard to say that our goal is not to win. Of course I want to win, but I think it's important for us to always keep in mind that it shouldn't be the goal.
JL: Being in any sort of commitment is not only about being the best. I feel like for each individual person I want band to be a place where they have a home.
ML: One personal goal that I have for the Woodbridge Entertainment Corps is to maximize our potential and try our best at competitions regardless the result. Placement does not define us; it really is about the effort put in.
MT: My goal for this season is to inspire and create passion in others within the band. For me, as nice as it is to leave a cool legacy behind, I would much rather inspire someone's ambition.
What are necessary skills to be successful in this position?
SW: Enthusiasm is key because people feed off that kind of energy. Also being altruistic- that's one of the most important attributes that a good leader has. You have to put the needs of the group ahead of anything else.
JL: Being punctual is the number one thing because you can't follow someone who's never there. You also have to show spirit too. You have to show this is hard work and yes its very tiring, but it's a commitment you make and might as well enjoy.
ML: We have to come early to every single thing like zero period, rehearsals- you just have to be on time.
MT: I really believe trust is truly the foundation to all leadership. With trust we are able to have the 200 plus people follow us and listen to our directions.
What is the process of becoming drum major like?
JL: To become a drum major there's actually an audition process at the end of the year before we have band banquet. What we do is fill out a paper, then conduct the class for five minutes and run through a song and fix them- you basically are a teacher. And then they have an interview process too, about five minutes long and they just ask you questions like "What would you do to change the band?" or "What's your dream team like?" That's essentially it.
SW: In a more long term sense, I think none of us really came into band knowing "I'm going to be a drum major when I'm a senior" or "I'm going to be a section leader." For me, why did I do music? It's just required and then I never stopped- it just seemed natural. It wasn't really a conscious decision, it sort of happened and when I think back to my first few years in band I never anticipated [being drum major].
ML: Jody and Sabrina already described the process- I didn't come into band knowing that I'm going to be drum major or I'm going to be section leader. I think I just went with the flow, did my best to keep up with everything and then ended up becoming drum major and that's pretty much it.
MT: Honestly I never would've thought I'd become drum major. But just doing music overall for the past two years is like what Sabrina said, you just go with the flow. But then you get to the point where you're like "I kinda like this" and then "Alright I should try out for this. Maybe I can help the band get better." And once you get through the audition process you realize "Wow, I just did that."
What do you like about this season's theme?
SW: I came up with the theme because it's a requirement when you submit your section leader applications. I never thought in a million years that we would spend an entire season doing something that I came up with. The message of the theme is that band is such a diverse group of people. It's pretty amazing to see so many different people come together and appreciate a culture besides their own.
JL: Reaching out to different cultures is another cool way to extend what we can perform as a group. You want to leave an impression with the audience. There's going to be all these colors in our show and it's supposed to elicit happiness.
MT: It's so diverse and so intricate in a kind of way that that also develops throughout the show. As you're watching, you'll see the tombstones get more festive and decorated and you get to hear the music develop- it's lighter and a lot happier and that's where the festivity comes in.
ML: My favorite part of the theme this year is the music itself because "Danse Macabre" by Camille Saint-Saëns is actually one of my favorite classical songs.
About the Contributor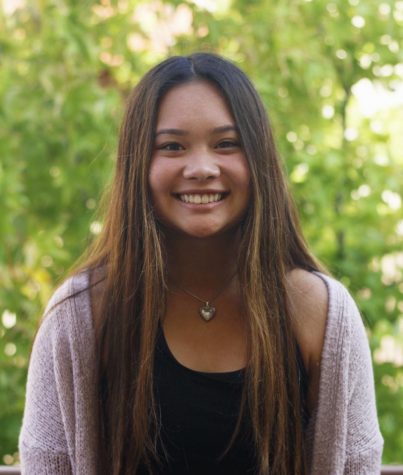 Sophia Leimer, Business Manager & Title Page Editor
Hello friends! This is my third and final year partaking in the Golden Arrow. I am super stoked and honored to continue on with my roles from last year...