A New Era of Black Football Jerseys
As Woodbridge prepared for football season, the football team unveiled its line of new jerseys.
As Woodbridge football fans made their way into the crowded stands this fall and cheered on their beloved Warriors, they might have noticed the players donning new black football jerseys. This is an exciting project designed by football coach Rick Gibson and graphic design teacher Matthew Takeno.
Gibson says that the players have wanted a black jersey for a decade and that he was willing to raise the money necessary to get them as long as it did not affect the cost of any of the other football equipment.   
The opportunity presented itself when senior and football captain Austin Gaines' grandfather made a generous donation to the football team, in the hopes that it would go towards something that the athletes wanted.
"He believed in what we could do this year," Gaines said.
Meanwhile, Gibson thinks the jersey is visually appealing, but also believes that it should only be used at certain times to preserve the authenticity of the school colors.
 "I like how it makes the red and the gold 'pop,'" Gibson said. "I think it should be used [for] special occasions only."
After playing on Gibson's Woodbridge football team during the years of 1995 and 1996, Takeno was glad to help him design the jerseys.
"I went to school here (WHS) and played football for coach Gibson," Takeno said.  "When he wanted a new design, he asked me to do it."
Takeno says that he got the inspiration for the jersey when watching college football, noticing the prominence of alternate jerseys on many of the teams.  He worked with coach Matthew Sandstrom to design the jersey, talking about what players would like to see in a uniform.   Takeno says that coach Gibson wanted a special jersey and that it felt amazing to design one for his old team  
Despite his involvement, Takeno remains humble about his creation.
"A lot of credit should go to coach Gibson for letting this happen," Takeno said.  "I am really grateful to have the opportunity to participate in it and I hope that it [is] something that the players and the school are excited about.  Go Warriors!"
As the football team lost to Mayfair on Nov. 17, the players retire their black football jerseys, leaving behind their hopes, dreams and losses until the next season.
About the Contributor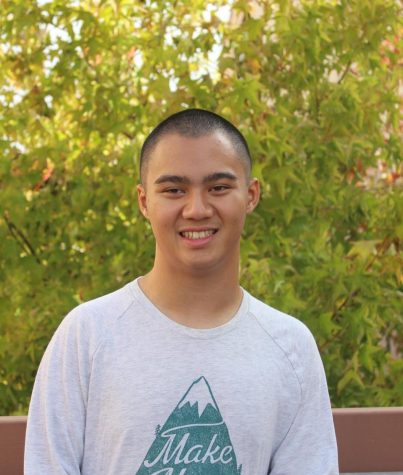 Bailey Kanthatham, Copy Editor
Hello, my name is Bailey Kanthatham, and this is my third year on the Golden Arrow.  I absolutely love writing articles and seeing them in print. As the...