Fashion Industry Insiders – Nordstrom Interns
Three Warriors intern for the Nordstrom Fashion Ambassador program, learning the behind-the-scenes of the fashion industry
Sharing their love for clothes and fashion, seniors Kaylea Danielian, Miki Dubery and Jessica Pineda are three of the eight interns in the Nordstrom Fashion Ambassador program. By participating in the program, they learn in a hands-on environment and gain a head start on their blossoming fashion career, while also finding joy in their work.
"The fashion ambassador program is a way to create a generation of loyal brand ambassadors for Nordstrom, to allow them to learn skills and gain connections in order to achieve their own goals," Nordstrom Women's Trend Manager Rita Gonzalez said.
Gathering once a month in the meeting room at Irvine Spectrum Center's Nordstrom, the interns engage in a unique experience sitting in on buyers' meetings, listening to lectures from industry insiders, researching trends and learning marketing skills.
"There was this one project where we had to pretend to be a buyer and they sent us out to Anthropologie and H&M and we had to detail the stores' atmosphere, the age range of the customers, price range and what Nordstrom could improve on," Pineda said.
Interns applied to the program to gain an immersive experience on a potential future career, mostly inspired by their own interest for the fashion or business industry. With plans to become a buyer in the future, Pineda applied to the program. Similarly, Danielian's aspirations to become a stylist and Dubery's dream of working in the broadcast and marketing sector compelled them to submit an application.
"It's just a way for us to get a head start from everyone else because the fashion industry is pretty competitive and having a Nordstrom internship on your resume can help you stand out from the crowd," Pineda said.
The application process was a lengthy three-month process in which applicants submitted an online application, completed a fashion project and partook in an interview. All three interns recall having learned about the program through friends who had previously participated in the program.
"I found out about [the program] through their Instagram, actually," Dubery said. "My friend did the one in San Francisco, and she told me about it."
After participating in the program, many reported that the internship reinvigorated their interest in pursuing a career in the fashion or business industry.
"I've always been interested in the fashion industry, and I've always wanted to get involved in retail, so getting a background knowledge on what it's like to be working in a high-end retailer gives me a good experience for the future," Danielian said. "I want to be a stylist so getting a background on a bunch of things is really interesting."
About the Contributor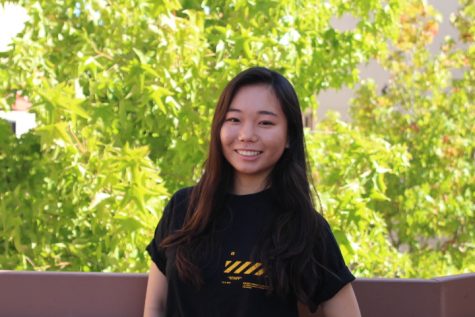 Lauren Chong, Co-Editor-in-Chief
Salve! Welcome to the Golden Arrow website! As one of the editors-in-chief of the Golden Arrow, my role is to ensure the entire production of the Golden...